Carefusion to be acquired for $12.2 billion
Monday, October 6, 2014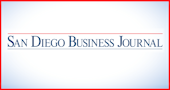 The San Diego-based medical technology giant, Carefusion Corporation, announced a definitive agreement under which New Jersey-based Becton, Dickinson and Company will acquire Carefusion for $12.2 billion – or $58 per share in cash and stock.

The combination of the two companies' product portfolios will offer integrated medication management solutions and smart devices, from drug preparation in the pharmacy, to dispensing on the hospital floor, administration to the patient, and subsequent monitoring.
Carefusion (NYSE: CFN) said the combination will improve the quality of patient care and reduce health care costs by addressing unmet needs in hospitals, hospital pharmacies and alternate sites of care to increase efficiencies, reduce medication administration errors and improve patient and healthcare worker safety. In addition, Carefusion will have solid positions in patient safety to maximize outcomes in infection prevention, respiratory care, and acute care procedural effectiveness.
Under the terms of the transaction, CareFusion shareholders will receive $49.00 in cash and 0.0777 of a share of BD (NYSE: BDX) for each share of CareFusion, or a total of $58.00 per CareFusion share based on BD's closing price as of October 3, 2014. The transaction is subject to regulatory and CareFusion shareholder approvals and customary closing conditions. The sale is expected to close in the first half of calendar year 2015. Upon closing, BD shareholders will own approximately 92 percent of the combined company and CareFusion shareholders will own approximately 8 percent.
To read more on this story, see the October 13 edition of the San Diego Business Journal.