San Diego Workforce Partnership Receives Federal Grant to Help Families of the Disabled
Thursday, October 2, 2014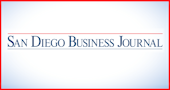 The San Diego Workforce Partnership, the regional job training agency, said it received a $6 million grant from the U.S. Department of Labor's Workforce Innovation Fund for a five-year project aimed at helping families of people with disabilities find jobs.
The SDWP was one of 11 recipients in nine states to obtain the latest round of WIF awards. The Labor Department provided awards totaling $50.7 million last month.
Program participants are families who are exempt from the work participation requirement due to a disability in the family. The local program is based on a pilot program in Minnesota that showed positive results. The Workforce Partnership said it aims to scale up the program to serve 500 families in San Diego County.
The estimated start date for the program is October 2015.