State's Life Sciences Lead in Funding, Job Creation
Wednesday, November 26, 2014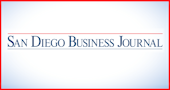 California continues to rank at the top of life science-related economic growth, with the industry now producing $101 billion in total revenue, according to a report released last week by the California Healthcare Institute and the consulting firm PricewaterhouseCoopers.
The 2015 California Biomedical Industry Report focused on funding and employment. The report also provided information on diseases that the state's biopharmaceutical and medtech companies target.
The report showed that the number of biomedical jobs in California has increased while the number in New Jersey and New York has decreased.
Overall, venture capital continues to flow into the biomedical industry in California, with $3.76 billion in VC investments in 2014 alone, $647 million of which is in San Diego.
Massachusetts, the second-ranking state for VC investments, pulled in $1.8 billion.
"No other state or nation has what we have here in California, but they want it," said CHI President Todd Gillenwater in a news release.
The report estimated that 270,000 people are employed by the state's 2,600-plus biomedical companies, with 36,731 of those jobs in San Diego County. The average salary in the California sector is $101,538.