FINANCE: LENDERS GIVE BUSINESSES FINANCING OPTIONS
When Banks Say No
Friday, November 21, 2014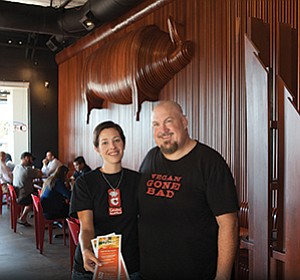 Three years ago, restaurant veterans Hanis Cavin and Sara Stroud opened their own eatery in North Park, Carnitas' Snack Shack, to rave reviews and lines of eager patrons.
While the couple relied mainly on their pooled savings of about $180,000 to launch the business, as the time approached for the opening, they realized they needed more money and applied for a loan.
After getting rejected by their bank, Cavin and Stroud approached Accion San Diego, a nonprofit micro lender, which approved an $11,000 loan.
"We needed the loan for our inventory, basically the food, and without it we wouldn't have opened," Stroud said.
For small businesses, especially startups, obtaining a traditional loan from a bank isn't an option. But that doesn't mean that funding isn't available. Organizations such as Accion and several others cater to business borrowers who may lack the credit profiles mandated by banks, but are still creditworthy.
In addition to Accion, other alternative business lenders operating in San Diego are Dealstruck and two nonprofits, CDC Small Business Financing Corp. and California Southern Small Business Development Corp.
Referred by Banks
Accion provides financing from $300 to $75,000, with many borrowers in the services and retail industries. "We have a lot of small retailers and those providing services such as restaurants, food trucks, janitors, landscaping businesses," said Elizabeth Schott, Accion's chief executive. "This year, the average loan is about $11,300, and for the last few years, it's been between $11,000 and $12,000."
Many of Accion's clients are referred by banks that are unable to make the loan, but recognize the borrower is still a good risk — just not for them, Schott said.
And just because Accion is a nonprofit and gets most of its funding from banks, that doesn't mean every applicant is approved. Of the 90 to 120 loan applications Accion receives monthly, 20 to 30 are approved for funding, Schott said. Interest rates on loans start at 10 percent.
Businesses that pay off an initial loan and qualify for larger amounts sometimes become larger and profitable enough to "graduate" into the ranks of traditional bank financings. But few are as successful as Carnitas' Snack Shack, which opened a second location in the Carmel Valley area, and plans a third location on San Diego's Embarcadero sometime in the late spring.
"Some of our clients don't have the same type of goals, to become that large," Schott said.
Less Stringent Criteria
CDC Small Business Finance Corp. is another local nonprofit that makes direct loans to challenged borrowers through several programs operated by the U.S. Small Business Administration and other programs.
Susan Lamping, CDCSBF's vice president of commercial lending, said many of its clients are those who've sought traditional financing but don't measure up to a bank's stringent underwriting criteria.
"They're just below the bank's radar screen," Lamping said. "They have good cash flow, but they may have had losses, and their collateral isn't sufficient."
While CDCSBF looks at the same categories that banks use to assess the creditworthiness of borrowers, it's not as tied to those measures, Lamping said.
"We're also looking at their credit scores, their cash flow, their experience in the industry, and outside sources of income," she said. "But if they have some weaknesses in one or two of those, that won't necessarily preclude them from getting a loan."
The most common loans approved by CDCSBF are though the SBA's 504 program, which provides funds to purchase the property the business occupies.
Qualified businesses cannot have net worth of more than $15 million, or a net profit after taxes of more than $5 million for the past two years. Such 504 loans can be as high as $5 million and have terms of 20 years.
CDCSBF makes such loans with partner banks that provide 50 percent of the loan total; the CDCSBF provides 40 percent and the borrower comes up with a 10 percent down payment.
For smaller businesses, CDCSBF offers a few programs that provide lower loan amounts. SBA Community Advantage loans go to a maximum of $250,000 and come with terms of seven to 10 years, and with variable interest rates ranging from prime plus 2.75 percent to prime plus 6 percent.
Micro loans can go up to $50,000 and target businesses that have been around at least two years. Borrowers must provide collateral equal to the loan amount or have a co-signer with adequate resources to repay the loan.
While small businesses have had a better chance of obtaining a bank loan in the last few years than in the throes of the recession, "there are still a lot of viable businesses that aren't getting loans," Lamping said.
Working With Banks
California Southern Small Business Development Corp. is a nonprofit guarantor for loans that range from $35,000 to $1.2 million. In recent years, the loans have been averaging less than $250,000, said Marvin Groner, senior credit officer.
Cal Southern doesn't provide the loans, but works with partner banks, guaranteeing up to 80 percent of the loan total. The agency is one of 10 Financial Development Corps. chartered and regulated by the state's Infrastructure and Economic Development Bank.
Among the types of businesses that have obtained bank loans guaranteed by the agency are contractors, retailers and service-oriented businesses; most have annual revenue of less than $5 million, Groner said.
"We've seen some pretty seasoned businesses with six, seven, eight years (in longevity), and we've seen some that have only one or two years being in business," he said.
Cal Southern guaranteed 41 loans for the last fiscal year ended June 30 for a total of $9.8 million, for an average loan size of about $239,000, Groner said.
While banks want to lend money to businesses, many are still very conservative in their underwriting approach, he said.
Perhaps the biggest hurdles many businesses face when seeking bank financing is weakness in the pledged collateral or in the business's liquidity, he said.
Yet things have improved at some lenders recently. "It used to be that if you had a short sale on your record, that would knock you out from getting approved," Groner said. "That's not true anymore, and they're looking at other considerations before a decision is made."
A Quick Turnaround
Dealstruck is another source that small businesses rejected by banks can turn to for needed funding. A startup itself, Dealstruck matches borrowers seeking capital with investors, although the former never knows who provided the loan.
A big selling point for the service is quick turnaround time, with an average decision made in two to four days, said CEO Ethan Senturia, the online venture's co-owner.
"Banks sometimes take too long before they decide to lend to a borrower," he said. "Sometimes, clients would rather have the money now, rather than waiting for weeks and saving a few points (of interest)."
Many Dealstruck borrowers get eliminated from obtaining conventional financing because their personal credit and the business's profitability aren't up to what banks demand, Senturia said.
"A lot of banks require two, if not three, years of profitability, but a lot of our borrowers may have been profitable for less than a year, or they just broke even in the last quarter," he said.
The bulk of Dealstruck's loans are for less than $250,000 but average $100,000 to $125,000, with terms of two to three years. Interest rates vary but average from 15 to 18 percent, Senturia said.
Most of Dealstruck's borrowers have been in business for seven to eight years, but don't make the grade by bank standards. However, they're often able to qualify for a Dealstruck loan, and will probably be a bank client in the future, Senturia said.
"In a lot of cases we know for a fact that in two or three years these businesses will be able to go to a bank and get a loan, but they can't today," he said.