ECONOMY: GERMANY TRIP EXPLORES COUNTRY'S WORKFORCE DEVELOPMENT
Economic Delegation Brings Home Some Lessons from Abroad
Friday, November 21, 2014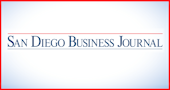 Munich in November may not sound inviting, but a delegation from San Diego hopes to glean insights from a recent visit there that will help build this city's innovation economy.
A local group of four executives was led by Mark Cafferty, chief executive of the San Diego Economic Development Corp., the nonprofit agency that attracts and retains companies to this area. He was joined by representatives from Qualcomm Inc., the University of California, San Diego Extension, and Stone Brewing Co.
Cafferty said San Diego already has established a fairly robust innovation economy but needs to expand and improve elements, particularly in the area of workforce training.
"Germany currently has one of the most sophisticated workforce development pipelines in the world, particularly in the area of advanced manufacturing," Cafferty said. "While we understand that what works in Germany may not necessarily work in San Diego, we believe the trip will provide a framework that will help us develop similar models locally."
The local delegation that visited Germany's third-largest city was part of a larger group of 30 people from San Diego and five other areas: Chicago; Louisville/Lexington, Ky.; Nashville, Tenn.; Phoenix, Ariz.; and Portland, Oregon
The selected cities are participants in the Global Cities Initiative, sponsored by the Brookings Institution and JPMorgan Chase. San Diego was one of eight U.S. cities selected to be part of GCI in 2012. The program aims to help cities develop a focused foreign direct investment plan that would lead to greater export activity by companies.
As part of the trip, which ended Nov. 19, participants visited several of Munich's largest and innovative companies, including BMW and Siemens, and met with top German officials.
Local Manufacturing
In recent years, San Diego has made concerted efforts to shore up and expand its manufacturing base. The industry segment was decimated during the recessions of the early 1990s and the most recent downturn that technically ended in 2009. The segment still employs about 94,000 workers locally. That's down from 102,000 manufacturing workers in 2007, according to a recent report from the National University System Institute for Policy Research, a local think tank.
But the type of manufacturing being done today is much different than what took place in the past, and puts an emphasis on the use of computerized equipment, which requires skilled training, said Erik Bruvold, president of National University System Institute for Policy Research.
"This isn't your grandparents' manufacturing sector but rather an assortment of industries which place a high premium on skills and sophisticated levels of training," Bruvold said.
In Germany, where manufacturing represents nearly twice the employment as in this country, companies rely on that country's dual model of vocational education and on-the-job training to sustain a steady employment pipeline, according to the San Diego EDC.
Another reason behind the Munich visit is to reinforce connections with companies from that region that are already heavily invested in San Diego and find possible new connections, Cafferty said.
Munich Connection
Munich is this region's sixth-largest source of foreign investment. Companies here that are owned by Munich-area corporations employ 1,222 workers, the EDC said.
The largest contributor to that number by far is TaylorMade Golf in Carlsbad, a subsidiary of adidas Group, also based in Bavaria. TaylorMade has about 900 employees here. The parent company reported revenue of $19 billion last year.
Other European cities that have larger San Diego operations are London, Paris, Cambridge and Stockholm, according to the EDC.
The cost for the trip was being paid by the GCI. The EDC didn't provide a total dollar amount but said the funds from the program covered both the hotel nights and expenses for the executives.
Cafferty said the Munich trip and others like it "not only help us develop key business contacts and best practices, but also ensure that we are projecting San Diego to a global audience. San Diego is a world-class city and we must continue to tell our story if we want the rest of the world to take notice."