Dec. 1 Groundbreaking Slated for New Little Italy Plaza
Tuesday, November 18, 2014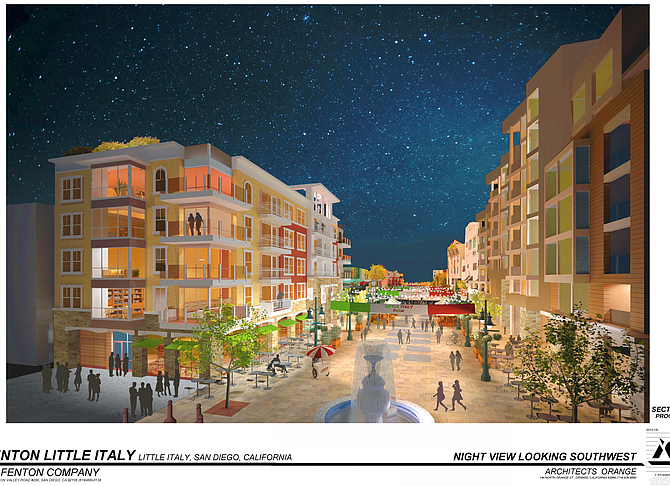 The Little Italy Association and San Diego-based developer H.G. Fenton Co. plan a Dec. 1 groundbreaking for Piazza Famiglia, a 10,000-square-foot public plaza serving the downtown neighborhood.
Officials said the plaza is designed to emulate the grand piazzas of Italy and other European cities, and will feature classic Italian architectural details and design. The plaza, set for a 2016 opening, will also include landscaping, seating, gathering areas and a "grand water feature."
Piazza Famiglia was approved by San Diego City Council in July, following years of collaboration among city officials, residents and business operators, the neighborhood association and developer. It will occupy a full block of West Date Street, between Columbia and India streets.
Leaders of the nonprofit Little Italy Association have said the pedestrian-friendly plaza is aimed at adding to the neighborhood's sense of place, and will provide a permanent staging area for seasonal festivals and weekly farmers markets held in the vicinity.
Officials have not announced expected development costs for the plaza project. The plaza is located near the site of a mixed-use residential and retail development that H.G. Fenton has proposed in Little Italy.