San Diego County Credit Union Reports Net Income of $75M
Monday, November 10, 2014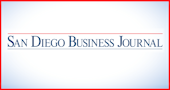 San Diego County Credit Union, the area's largest credit union and second-largest locally-based financial institution, reported net income for the nine months ended Sept. 30 of $75 million, up from $66.7 million in net income for the like period of 2013.
Total assets at SDCCU grew to $6.6 billion, up 5 percent from the prior year's third quarter, while total loans increased 23.6 percent to $4 billion over the same period.
The credit union said its net worth to assets ratio at Sept. 30 was 13.42 percent, above the 7 percent minimum capital ratio for credit unions to be considered "well-capitalized."
SDCCU has 274,000 members, up 8.6 percent from one year earlier. The credit union opened two branches in the San Ysidro and Clairemont areas recently, bringing the total to 35 branches in San Diego, Orange and Riverside counties.