BIOTECH: ANALYSTS EXPECT SALES IN BILLIONS FOR THE COMPANY
Receptos' Pipeline Looks Promising
Friday, November 7, 2014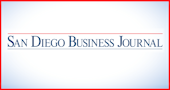 San Diego biotech Receptos Inc. watched its stock price soar last month after the company shared promising trial data involving a treatment for ulcerative colitis, an autoimmune inflammatory disorder affecting about 700,000 people in the United States, with 70,000 new cases diagnosed every year, according to the National Institutes of Health.
Receptos went public in May 2013, starting at $14 per share, and the stock price has steadily grown over the past year and a half, sitting at $67.74 per share on Oct. 27. The following day, Receptos announced phase 2 clinical trial results for its lead drug candidate for ulcerative colitis and watched as the company's stock jumped 41 percent, closing at $95.76 on Oct. 28. Since then, the stock price continues to climb and is currently selling for $106.02 on the NasdaqGS under the stock symbol RCPT.
The Drug
According to Receptos' President and CEO Faheem Hasnain, the market for ulcerative colitis and its sister condition, Crohn's disease, is virtually untapped. Current treatments for ulcerative colitis consist of low efficacy drugs or biologics that have to be injected, Hasnain said. The Receptos drug candidate, RCP1063, could be one of the first drugs for patients that can be taken orally as a single daily pill.
"This drug could be one of the first meaningful drugs for patients living with ulcerative colitis," Hasnain said. "It could have a huge impact on quality of life."
Receptos plans to enter the last stage of clinical trials, Phase 3, for ulcerative colitis along with launching phase 1 trials for Crohn's disease indications in early 2015.
Inflammatory bowel disease is not the only target for RCP1063. Receptos released positive phase 2 data showing the drug as a possible treatment for relapsing multiple sclerosis, or RMS. The company revealed its initial findings June 10, showing an 86 percent reduction in lesions in patients with relapsing MS. An abstract released in September also revealed that patients receiving a high dose of the drug experienced a 53 percent annualized relapse reduction, which, according to Leerink Parners LLC analyst Joseph Schwartz, compares favorably with other new MS drugs. Receptos is starting Phase 3 clinical trials for MS immediately, Hasnain said.
Spending and Growth
Receptos more than doubled investments in research and development during its third quarter, with $29.3 million in R&D expenses, compared with $13.5 million in the same quarter last year, according to financial statements. Hasnain said the increase in spending is primarily due to costs associated with advancing clinical trials.
Total revenues for the third quarter of 2014 were $3.5 million compared with $1.1 million for the same time last year and consisted primarily of amortization of upfront fees and milestone payments. Net loss was $32.2 million for the third quarter, compared with $15.6 million last year. Hasnain said the net loss is not a reflection of the company's financial health.
"We're not an earnings-per-share driven story yet," Hasnain said. "The entire industry doesn't even think about the income statements before regulatory approval. Those net income statements are very misleading because they speak to different deals or milestones you might have, but they don't speak to sales because we don't have anything to sell yet. Our stories are all about future earnings."
Receptos, which currently employs 64 people, is expanding and recruiting across the board, aiming to have over 100 employees on staff by the first quarter of 2015.