BORDER: CROSS-BORDER TRADE IS VITAL TO GROWTH OF CALIFORNIA'S ECONOMY
South San Diego County and Tijuana Maintain Close Business Ties
Friday, May 30, 2014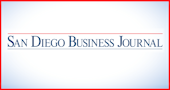 Through good and bad times, the economies of South San Diego County and Tijuana remain closely connected as thousands of people — workers and visitors — cross the border each day, and billions of dollars in products are exchanged between the U.S. and Mexico.
"We go through recessions together. We go through economic spurts together," said Paola Avila, executive director of the San Diego Regional Chamber of Commerce's Mexico Business Center. "Our economies are inextricably linked."
A big part of that link is the steady flow of workers who keep both economies running. About 10 million trips are made annually across the border by commuters traveling to and from work, according to the South County Economic Development Council.
In South County and Tijuana, "the population moves back and forth through jobs and daily interaction," said Kelly Cunningham, an economist and senior fellow at the National University System Institute for Policy Research who said the border is extremely fluid when it comes to trade.
Using each other's workers "makes the region that much stronger," Avila said, adding that such sharing goes beyond unskilled workers.
"We're bringing in engineers from Tijuana," she said.
Also, housing needs have played a role in increasing the number of people who cross the border each day to get to work, said Marney Cox, chief economist for the San Diego Association of Governments, known as SANDAG.
"For a while, home prices in San Diego were so high we saw people moving to Baja Norte to live," Cox said.
More recently, some Tijuana residents have moved across the border to South County to escape rising crime there, he said.
Cross-Border Imports and Exports
Mexico is California's top export market. While the San Ysidro port of entry is the world's busiest international land border crossing, the Otay Mesa port of entry is the main access point for the international trade that passes through South County, according to a May 6 report from SANDAG's committee on binational regional opportunities.
In 2013, California exported $23.9 billion in goods to Mexico, accounting for 14 percent of all California exports. California, meanwhile, imported $36.2 billion worth of Mexican goods that year, SANDAG reports.
That flow of commerce "impacts economically on both sides of the border," said Enrique Esparza, president of the Tijuana EDC. "There is no doubt in our minds that our economies are tied in. We see it on a daily basis."
And it's expected to increase.
SANDAG's 2050 Comprehensive Freight Gateway Study projects that the number of trucks crossing the California-Mexico border will increase from nearly 2 million in 2007 to almost 5 million in 2050.
Sharing Production Along the Border
Another way the economies of South County and Tijuana are linked, Avila said, is through production sharing. Many products are manufactured in stages on opposite sides of the border, crisscrossing back and forth multiple times until they are completed.
According to the Tijuana EDC's website, the city's gross domestic product is estimated at over $17 billion, of which 35 percent is generated by manufacturing exports. The city has about 568 manufacturing facilities with roughly 165,000 employees.
The border economies have been helped by the North American Free Trade Agreement, or NAFTA, Avila said. Enacted in 1994 in Mexico, Canada and the U.S, it eliminated most tariffs on trade between participating countries.
Avila said that while one argument against NAFTA was that it would send U.S. jobs outside the country, her observation is that it has helped the local economy.
"If you manufacture something in Tijuana, it creates jobs here," she said.
Despite strong cross-border trade, the U.S. and Mexico are still recovering from the deep recession. Working as a team will benefit people on both sides of the border, Esparza said.
Avila agreed.
"The economic growth of our future will depend on cross-border trade," she said. "It is a tremendous opportunity, if we are able to harness the economic growth."