DEFENSE: PROGRAMS CULTIVATE NEEDED SKILLS AND INTEREST IN STEM
For Spawar, 'Readiness' Also Includes Educational Outreach
Friday, May 16, 2014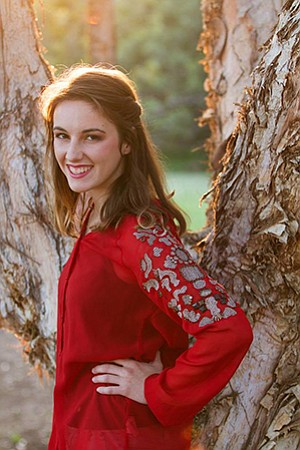 Gracie Young is bright, driven and looking forward to getting her first patent. She is like a lot of people in San Diego's technology scene — except that she's in high school.
Young made her discovery and subsequent trip to the patent office with a little help from the scientists and engineers at Spawar, the U.S. Navy's technology command.
Spawar, short for Space and Naval Warfare Systems Command, is an economic powerhouse that's poised to send $1.77 billion into the local economy before the year is over. But its impact is about more than dollars and cents, and Young's achievement is a classic example of Spawar's particular positive influence on local primary and secondary school science learners.
Among other things, Spawar contributes to San Diego's intellectual and scientific heft, going as far as to mentor and coach the next generation of thinkers. In many ways, Spawar is helping itself by creating a group of bright scientific- and engineering-minded young people who are U.S. citizens and may one day join the lab's staff. And it's potentially helping the region be more competitive in attracting and retaining high-tech businesses.
SSC Pacific publicist Jim Fallin said employers want to know two things when they come to an area: the cost of doing business and whether there is a ready workforce. The command seems to be doing its part to build the latter, adding to the ecosystem that includes local universities, biological research institutions and technology businesses.
Young has interacted with Spawar's volunteer corps — estimated at 400 technical experts right now — since the seventh grade. That's when she started participating in a San Diego Science Alliance program that introduces young women to science and engineering. She landed an internship at Spawar Systems Center Pacific on Point Loma last summer, where her mentors steered her toward image processing.
The Navy, which has time-saving algorithms that help analysts review satellite images and pick out ships, is working on technology to interpret video. Toward that effort, Young was asked to teach the computer to find the horizon in a video feed.
On May 8 at a security conference in Baltimore, Young presented her solution to the scientific community in a poster session titled "Robust real-time horizon detection in full-motion video."
Young recalled that at the end of her internship, her mentor asked if anyone else had done what she had accomplished. Her answer was no. That's when her supervisor uttered seven words: "You know you could patent this, right?"
Soon she was sitting with Spawar's patent staff working on a patent application. Spawar will share her patent once it is issued.
Robotic Science Learning
Young is one of many young people that Spawar employees have mentored through several programs at many grade levels.
The lab reaches out to demographic groups that are often underrepresented among scientists and engineers, such as the African American community. For the last two years it has produced half-day programs for Spanish-speaking families, said engineer and physicist Jim Rohr, who described such sessions as an opportunity to spread the word about schooling — such as the need to take algebra as a prerequisite for calculus.
In addition to helping underrepresented groups, Spawar officials say they are helping to create enthusiasm for stem, a common term that stands for "science, technology, engineering and mathematics."
SSC Pacific's K-12 outreach program, which Rohr coordinates, has grown from a single event in 2007 to more than 300 events last year. During the year, nearly 400 stem professionals volunteered more than 12,000 hours in the community, Rohr said.
Their projects take different shapes. With Spawar's help, many students build robots and get a taste for engineering.
Through the SeaPerch program, students in the middle and upper grades build swimming robots out of PVC pipe, foam floats, film canisters and three small electric motors, which drive propellers. SSC Pacific education liaison Chris Deckard described how students solder electrical wiring, smear wax over the motor housings to waterproof them, and piece their robots together.
"They learn all sorts of science along with it," Deckard said.
Once built, students try to maneuver their breadbox-sized robots through an obstacle course. New this year is a challenge called "Heist," where students use their robots to retrieve objects from a closed cage.
A recent weekend saw volunteers from SSC Pacific and the San Diego Science Alliance, along with 90 SeaPerch teams, gathered at the Grossmont College swimming pool, putting the little robots through their paces. A few were bound for the national meet in Hattiesburg, Miss.
Volunteers from SSC Pacific also help at the First Robotics competition, where high school teams field robots that maneuver on hardwood floors. First Robotics held a regional competition involving rolling, ball-tossing robots at San Diego's Valley View Casino Center in March. There's a heavy emphasis on computer programming: Robots operate autonomously at one point in the game. At another point, robots fielded by different teams must operate as a unit.
Maintaining Imagination, Curiosity
Rohr, 61, is an animated speaker who delivers his material with enthusiasm. Those attributes serve him well in front of junior high and high school students — or groups of teachers.
Part of his typical talk is about how to think through problems.
People have blind spots; Rohr admits to having them himself with a self-deprecating story about trying to keep a rat out of his family dog's kibble bag in the garage. Rohr, who has a doctorate in engineering physics, tried a variety of traps ranging from simple to sophisticated, with the rat winning every time. In the end, his son solved the problem by taking an entirely different approach — pouring the dog food into a container that the rat couldn't breach. After gnawing at the lid, it eventually gave up and left.
Rohr is fond of a quote from Pablo Picasso: "Every child is an artist. The problem is how to remain an artist once we grow up."
He sees imagination and curiosity in the students he meets, but he laments that those traits seem to diminish as they progress through school. A key challenge is how to keep students engaged and excited about science and technology.
"I think that there has to be a change in the culture," he said.
For Young, the high school patent applicant, her Spawar experience continues to reap benefits as she approaches the next phase of her education.
Her summer internship at Spawar Systems Center impressed college admissions officers. Young will pursue her next engineering challenge at Stanford University, having also been accepted to Harvard University; the University of California, Berkeley; the University of California, San Diego; and Cal Poly San Luis Obispo.