DEFENSE: PORTFOLIO MANAGERS GUIDE COS. IN THE RIGHT DIRECTION
The 'Secret' to Doing Business With Spawar Is There's No Secret
Friday, May 9, 2014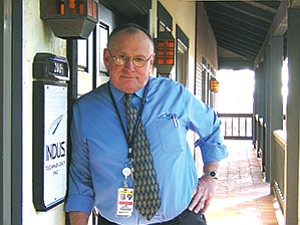 How to do business with Spawar? It's a question that many executives and small-business owners wrestle with and one that Jim Lasswell, CEO of San Diego-based Indus Technology Inc., has solved.
Lasswell, whose business has grown to 220 employees and more than $25 million in revenue, recalled that his first Spawar contract was small — less than $100,000. Still, he said, "It felt like a big accomplishment."
After all, Spawar — short for Space and Naval Warfare Systems Command — is huge. It employs 4,900 people in San Diego County and takes up 3 million square feet of floor space. But as imposing as it seems, Spawar is accessible if you know where to look. There are many ways for a business to get on the command's radar, provided that the business has a technology or a talent that the command is looking for.
Spawar, with its headquarters in Old Town and its systems center in Point Loma, is the U.S. Navy's technology command. It takes in cybersecurity, satellites, radios, advanced materials and information technology — both shipboard and back-office.
Spawar Systems Center Pacific on Point Loma has 600 or more projects going on at any one time. Typically project managers keep their eyes on their areas of specialty.
SSC Pacific leaders steer business inquiries to seven people called portfolio managers who concern themselves with broader issues such as how to keep a technical edge, said John Iaia, deputy executive director for Spawar Systems Center.
Each manager is in charge of a portfolio — with names such as Decision Superiority and Integrated Cyber Operations — encompassing a broad swath of technology, and each manager is a point of contact. For example, a business that has a technology that could help commanders with intelligence, surveillance and reconnaissance — or ISR, as the military calls it — could contact the Battlespace Awareness portfolio manager.
"He's the entry point," Iaia said, adding that not knowing who to contact is not a problem. "No matter where you enter, we will ensure you are pointed to the proper portfolio."
And some technologies might interest multiple portfolio managers, he said.
Networking, Resources Available
Georgia Griffiths, CEO of San Diego-based G2 Software Systems Inc., built a relationship with Spawar by hitching her wagon to the Milstar satellite. G2 Software was a subcontractor to Science Applications International Corp. on that project during the mid-1990s. Those were the days before formal mentorship programs, Griffiths recalled; nevertheless, she said, SAIC managers showed her the way to success.
Today her business has 160 employees.
Like G2 Software, many businesses get acquainted with Spawar as a subcontractor. Small businesses seeking work as subcontractors to large primes need to approach them long before a prime announces that it has received a contract, said Lasswell at Indus Technology.
To that end, trade organizations can help with introductions and networking.
The San Diego chapter of the NDIA — short for National Defense Industrial Association — and SSC Pacific offer periodic executive networking forums, which feature a wine-and-cheese social after a business meeting. The events are held at SSC Pacific, which has a stunning view of San Diego Bay. Visit www.ndia-sd.org for information on future events.
Like NDIA, the Armed Forces Communications and Electronics Association, or Afcea, offers learning and networking opportunities. The local chapter's website is at www.afcea-sd.com.
Once a business gets a Spawar contract, the job isn't over.
"Make sure you do a great job," said Lasswell, who described getting acquainted with Spawar as an ongoing process that involves networking, perseverance and being proactive. "Do it over and over. People will see you as an excellent player. They will bring you along on their next bid."
Programs, Grants and Opportunities
Some business owners already have an advantage in winning contracts. They just don't know it yet. Spawar has jobs set aside for certain categories of business, such as woman-owned or veteran-owned.
There are other programs of interest to businesses. A Navy-wide Small Business Innovation Research program is a way that companies can get the government's help in developing and fielding brand-new technology. More information is available at www.navysbir.com.
There have been cases where Spawar has licensed its technology to private businesses through a document called a Crada — short for cooperative research and development agreement.
For example, Spawar scientists discovered that pollutants affect the way certain bioluminescent plankton glow — the more pollution, the dimmer the light. Assure Controls Inc. of Vista licensed SSC Pacific technology based on that phenomenon. The business currently licenses six Spawar patents.
"They've been a wonderful partner for us," said Bryan Bjorndal, Assure Controls' CEO, who added that Spawar is ahead of most other federal agencies in technology transfer.
SSC Pacific has received more than $2.5 million in royalties from license agreements since 2008.
As for what's ahead, SSC Pacific's Iaia is excited about several fields, including big data, cyber, autonomous systems that fly or swim, optics and new materials such as ultra-light graphene.
Iaia gets to see technology several years before it goes into wide public use. For example, he got an early look at the "personalized assistant" technology that eventually went into Apple Inc.'s Siri voice-command system. Being able to preview up-and-coming technology is one enjoyable aspect of working with the Navy's top scientists and engineers.
"We're very fortunate being here," Iaia said.