First National Bank of Southern California to Buy First Mountain for $14.1M
Monday, May 5, 2014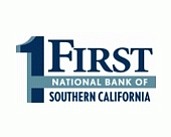 First National Bank of Southern California, with four of its five branches in San Diego County and $177 million in total assets, agreed to buy First Mountain Bank for $14.1 million in cash, FNBSC announced.
First Mountain, based in Big Bear Lake, has $134 million in assets.
The agreed on purchase price is $9 per share, but that could change if First Mountain Bank's shareholders equity falls below $12.175 million by the time the transaction closes, expected sometime in the third quarter.
The deal was approved by both banks' boards of directors, and it still requires approval from shareholders and regulators.
Assuming the transaction is OK'd by regulators and the acquired banks' shareholders, FNBSC would have about $300 million in assets and eight branches, none of which overlap.
FNBSC was acquired by an Encinitas-based group of private investors in December for an undisclosed price. The bank, which has gone through a few mergers in the last two decades, has been operating under a formal agreement with the U.S. Office of the Comptroller of the Currency since 2010.
FNBSC has offices in Carlsbad, Fallbrook, Lake San Marcos, Vista and Riverside. It reported a net loss of $588,000 in 2013, while First Mountain Bank reported a net profit of $687,000 for the same year.