Executive Q&A: Jim Spain of Colliers International
Friday, May 2, 2014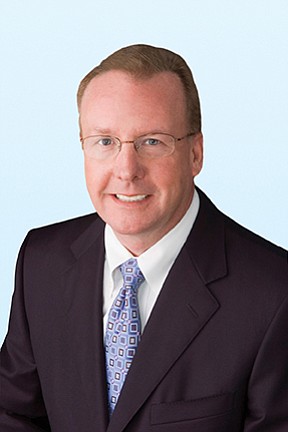 Jim Spain, the San Diego managing regional director for Colliers International, has been in commercial real estate since November of 1982, when he joined Iliff Thorn and Co., the predecessor company to Colliers in San Diego. Colliers, a global commercial real estate firm with offices in 63 countries and revenues of more than $2.1 billion, acquired Iliff Thorn in 1994.
After Colliers acquired Iliff Thorn, Spain became managing director for its office in Carlsbad and was named regional managing director for San Diego County in 2010.
Spain, a native of San Bernardino, has a bachelor's degree from San Clara University and a law degree from the University of San Diego School of Law.
While studying law, he took a class in advanced real estate planning from local lawyer Michael Dorazio, which fascinated him and prompted him to pursue the commercial real estate industry. Craig Clark of C.W. Clark Inc. hired him for his first job in the industry as senior broker at Iliff Thorn. And during that time, Jerry Sarazin taught him how to be a successful industrial broker.
"I deeply appreciate their help in shaping my experience," he said.
Spain took time to share some thoughts on commercial real estate in San Diego — and in general — as well as a little about himself.
What do you like most about the commercial real estate business?
As a broker, I enjoyed providing service to a diverse clientele. Every day presented a new challenge, new clients to work with and new deals to close. As a manager, my satisfaction comes from assisting our brokers to become trusted advisers to our clients.
What are the most challenging issues facing the commercial real estate business in San Diego?
Over regulation of commercial real estate development by governmental entities is our biggest challenge.
What did you want to be when you were young or in school?
A traveling photo journalist.
How did you earn your first dollar?
As a kid, I worked in the stockroom of the women's shoe department in my father's shoe store in San Bernardino.
What is the riskiest thing you have ever done?
Chose a career in 100 percent commissioned real estate sales over a career in the legal profession.
What is your biggest stressor or the thing that causes you the most angst?
I have trouble with people who say that something cannot be done without first exploring how it can be done.
What was the most recent book you read?
"Unbroken" by Laura Hillenbrand, it's an incredible WWII story of perseverance.
Outside of your family, what brings you the most joy?
In my role as co-chair of the Community Involvement Committee within the San Diego chapter of NAIOP, I have really enjoyed supporting the Special Operations Marines at Camp Pendleton. When they deploy, we provide them with personal items to make their lives there a little easier. They request certain items that remind them of home and make their tour abroad a little easier. Recently, we shipped Keurig coffee makers along with tons of coffee. Last summer we raised a quarter of a million dollars for their foundation, which aids the families of those Marines who are injured or killed. The level of dedication by these Marines continually amazes me.