Maxwell Technologies Inc. Names New CEO, Reports Q1 Results
Thursday, May 1, 2014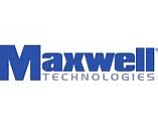 Maxwell Technologies Inc., the San Diego maker of energy storage and power delivery products, said it named Franz Fink as its new chief executive officer and president.
Fink replaces interim president John Warwick, who is now the company's chief operating officer. Former CEO David Schramm resigned last year.
Fink was president and CEO of Gennum Corp., a supplier of analog and mixed signal semiconductors for the optical communications industry, from 2006 to 2012. He was most recently working as an independent business consultant.
Fink, who will also become a director, has also held a variety of other management positions in the wireless industry, including a 12 year stint with Motorola Corp.
In other news, Maxwell reported first quarter net income of $319,000, compared with a net loss of $278,000 in the like period of 2013.
Revenue for the quarter was $46 million, down 4 percent from the like quarter of 2013.
The company said while the hybrid bus market gains momentum in China, its visibility into this demand remains limited. However, the growth of sales of its main product, ultracapacitors, in other markets is robust.
The company said its second quarter sales will be similar to those reported in the first quarter.
Shares of Maxwell, traded under the ticker MXWL on Nasdaq, closed at $14.69, down 37 cents from the prior day's closing price. Its 52-week range is $5.61 to $16.87.