TRANSPORT: TAXIS SAY NEW COS. HAVE UNFAIR EDGE
Sharing the Ride
Friday, March 28, 2014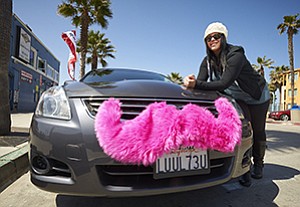 Christina Murphy recently sat behind the wheel of her 2010 Nissan Altima at the corner of Mission Boulevard and Grand Avenue. With the Pacific Beach AleHouse to the south and beach to the west, the spot is a magnet for revelers — and independent contractors such as herself who offer rides via smartphones.
Murphy's car grille sports a fuzzy pink mustache, indicating that she drives for Lyft Inc., part of the emerging venture capital-backed ride-sharing industry. While the 31-year-old Mesa College student — who can earn $20 to $30 per hour — appreciates being able to make extra money, there are plenty of people in the traditional taxi industry who don't appreciate what she and other drivers like her do at all.
It's been about six months since the California Public Utilities Commission passed rules to create a new category of businesses such as Lyft called transportation network companies — or TNCs — along with rules governing their operations statewide. And in that time, many in the taxi industry who opposed the PUC's action say their concerns are coming to pass as their ridership declines while ride-sharing companies enjoy special status and avoid many of the costs and local regulations that the traditional providers face.
Today, Lyft and other such companies — notably, Uber Technologies Inc. and Side.cr LLC, which goes by Sidecar — continue to grow and experience growing pains as their legal status varies by city and state. In California markets, most ride-sharing operations exist in a temporary regulatory state as the PUC reviews their license applications. As of late March, the state had issued one TNC permit, for a ride-sharing business called Summon, which considers San Diego a market for future expansion.
The ride-sharing services declined to give revenue, local ridership figures or the number of San Diego drivers. Nevertheless, Uber reports double-digit monthly growth, said Chris Ballard, local general manager for Uber, which launched its San Diego operation in June 2012.
"For us, business is fantastic," Ballard said.
At Yellow Cab of San Diego, things are less than fantastic.
While a normal day would have 3,000 to 3,500 calls, ridership is now down 15 percent, said Anthony Palmeri, president of Yellow Cab and owner of Yellow Radio Service of San Diego.
"We're the biggest. We have the most to lose on our calls," said Palmeri, who counts 280 cabs as subscribers to his radio service. Palmeri said he lost more than 30 drivers to ride-sharing
companies.
"There's not much we can do except tell the drivers to perform better," said Tony Hueso, president of USA Cab and head of the San Diego Taxi Association. Hueso owns a large percentage of the business, which has 48 drivers.
Palmeri expressed frustration that the newcomers don't have nearly the costs or the regulatory burden that taxi operators feel.
Ride-sharing services counter that they are technology firms that connect passengers with independent-contractor drivers using smartphone apps. "We're a transportation marketplace," said Margaret Ryan, a spokeswoman for San Francisco-based Sidecar.
The New Rules of the Road
The San Francisco-based Public Utilities Commission's decision regarding TNCs was notable because it established one set of rules for ride sharing statewide, giving the California government — rather than local governments — exclusive authority to regulate.
"This allowed us to avoid the legal hurdles we experienced in San Francisco and L.A. and bring Sidecar to the rest of the state," Ryan said in an email.
Sidecar has since expanded to other San Francisco Bay Area cities, as well as Long Beach and San Diego.
Among other things, the PUC called for driver background checks and vehicle inspections. It also called on ride-sharing companies to hold a commercial liability insurance policy with a minimum of $1 million per-incident coverage — regardless of whether personal insurance allows for coverage.
A Lyft spokeswoman said the company had been doing those things before the regulatory framework went into place. Sidecar said it added a 19-point vehicle check at the commission's request.
Palmeri said it makes no sense for companies to regulate themselves.
"There is no PUC regulator going out there checking vehicles," Hueso said of the new ride-sharing companies, adding that the state commission enacted regulations but did not determine how to pay for enforcement.
The San Diego Metropolitan Transit System — the agency that runs the local buses and trolleys — regulates taxicabs in San Diego and performs annual inspections, an agency spokesman said. The San Diego County Sheriff's Department licenses the drivers.
Palmeri said he faces legal and regulatory burdens that ride-sharing companies avoid, including having to operate in the undesirable window of 2 a.m. to 5 a.m., having to serve crime-ridden neighborhoods as well as ones considered safer, and having to operate wheelchair-accessible vans. Palmeri has four such vans. "I don't make money on them," he said. "I can't charge more money."
And Palmeri envies how ride-sharing companies can maximize revenue through surge pricing, the practice of charging more money during times of peak demand.
"I can't do that," he said.
Representatives of Uber, Lyft and Sidecar report that their companies take 20 percent of each fare, with the driver getting 80 percent. They said a ride booked through their services typically costs 30 to 40 percent less than the same ride in a taxicab. The discounts, not to mention a certain cachet, seem to be driving off with a chunk of the existing taxicab businesses.
Palmeri also complained that ride-sharing vehicles don't need commercial license plates or commercial insurance, and can sidestep fees associated with serving Lindbergh Field. He alleged that ride-sharing companies remove their insignia for airport trips.
The Cool Factor
One thing taxis can't claim is the flamboyance of the new ride services.
Mardi Gras had been over for a couple of days, but the party was still going on inside Murphy's Nissan. A feathered, bejeweled mask sat on the dashboard. Beads adorned the backseat. And a Dixieland version of "When the Saints Come Marching In" played on the sound system.
Besides supplementing her income, the Los Angeles native drives for Lyft one to two days a week to meet people.
"It's my social outlet," she said.
Lyft has hundreds of San Diego drivers, and no two cars are alike as the service lets drivers express their personalities, Murphy said. One San Diegan has a car inspired by "Harry Potter," while another has a jungle theme, she said.
Specific Sidecar drivers offer amenities such as children's booster seats, accommodation for service dogs, curated music playlists and even cupcakes, Ryan said.
When a Lyft ride is over, its app enables passengers to pay via bank card and rate their drivers on a scale of one to five stars. Drivers can also rate their passengers. Murphy is a five-star driver who also helps management by evaluating prospective contractors.
Uber, based in San Francisco, offers a variety of transportation options, including town cars and high-end sport utility vehicles. Its UberX service resembles the competitors' ride-sharing services.
Lyft and Uber seem to have separate fan bases, said Tracey Wood, sales manager at The Bristol Hotel downtown. Guests still order taxis, she said, but travelers who are more tech-savvy use ride-sharing services.
Wood knows someone who works as bartender until 2 a.m. and spends the next two hours taking people home as a transportation provider.
Interests Collide
In late February, the Taxicab, Limousine & Paratransit Association rolled out an advertising campaign called "Who's Driving You?" The group, based in suburban Washington, D.C., asserts that there is "an ugly side" to the new, alternative transportation services.
Campaign spokesman John Boit echoed the complaint that ride-sharing companies are not regulated to the extent taxi businesses are and that TNCs are essentially taxi companies, in that they hire drivers, accept money from passengers and pay drivers.
"They do exactly what a taxi company does," he said. "These companies want all of the profit and none of the responsibility of being a transportation company."
Boit asserted that insurance companies will not cover private drivers in their capacity as carriers on their private-owner policies, adding that insurers continue to argue over financial responsibility for a tragic, fatal incident involving a TNC driver in San Francisco.
A lot of personal auto insurance policies exclude livery service, said Steve Shea, principal with the San Diego office of Barney & Barney, which is now part of Marsh & McLennan Agency LLC.
"A livery is a commercial enterprise, and premiums reflect it," Shea said, noting that premiums for livery services may be four times that of an individual's auto insurance policy.
Bill Rouse — general manager for Los Angeles Yellow Cab and past president of the Taxicab, Limousine & Paratransit Association — said liability insurance is the biggest line item in his budget, accounting for 30 to 40 percent of his company's expenses.
Ride-sharing companies said in March that they were beefing up their insurance coverage.
Getting With the 'Movement'
As the debate continues, TNCs are hiring.
It may be telling that Lyft is seeking to fill a full-time position for a government relations professional and community organizer. A recent job posing on its website sought "a scrappy, seasoned operator who has earned your stripes as a field organizer or advance team member on state and/or local campaigns." The ad hints at the scope of the effort: "As we grow rapidly in cities around the country, we need an experienced campaigner to orchestrate on-the-ground grassroots mobilization tactics."
The ad refers to Lyft as more than just a business. It's "the Lyft movement."
Murphy, in the Mardi Gras Nissan, seems to like being part of that movement.
"You never know who's going to pop up on the app next, what they're about," she said. The next call might be a person taking a pet to the veterinarian. Or it could be a couple out for dinner.
One thing she does know. When it's 3 a.m. and women are going home, they seem to like having another woman take them there.
Meanwhile, one taxi driver, who asked that his name not be used, was philosophical about the new landscape as he negotiated the streets between San Diego's Santa Fe station and the new Central Library.
"It's business. It's competition," said the man, who has been driving for five years since coming to the United States from Ethiopia. "The customer will choose the better service."