INNOVATION: TECHNOLOGY PRODUCES A 3-D IMAGE OF FEET TO CREATE CUSTOM INSOLES
IM Custom Builds a Better Foot Scanner and Takes Off Running
Friday, March 28, 2014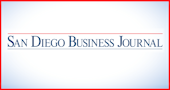 Glen Hinshaw was so dedicated to ensuring his three-dimensional foot scanner was made correctly he took up residence at a few factories in China for about a year and a half.
"It was difficult as I don't speak Chinese," said Hinshaw, the founder of Carlsbad-based IM Custom. "Even though I had a translator, it's tough communicating with people and getting them to understand all the details that had to be done."
The foot scanner Hinshaw oversaw is based on patented technology — developed by researchers at the Massachusetts Institute of Technology — for a portable imaging system. The folks at MIT were focused on putting the advanced image-
capturing system to other uses, such as fingerprinting and industrial product quality control, but Hinshaw immediately saw the potential for creating a personal foot profile and making more effective shoe insoles.
"What we've created is the first commercial version of that technology called GelSight that is stereo camera technology," he said.
A former world-class cyclist who specialized in velodrome racing and who had foot problems, Hinshaw was heading a business in Australia that was using other scanning technology to make better shoe insoles. It was during that time that he discovered the MIT imaging technology and arranged a licensing deal for a new type of foot scanner.
IM Custom generated about $250,000 in sales last year, and should exceed $2 million in 2014. The company has six employees total, including three locally, and another three outside the United States, Hinshaw said.
Foot Scanner Spanning the Globe
Building the prototype took about three years, including stints in China, Singapore and the United States, Hinshaw said.
One of the goals was to create a scanner that was small enough to carry on a plane and that could be operated through mobile technology available on tablets and smartphones. Earlier versions were too bulky and weighed 78 pounds; the most recent version is 48 pounds.
Hinshaw demonstrated the scanner for the San Diego Business Journal, creating a 3-D photo of this writer's feet and then sending the images to a foot doctor in Spain for further adjustment based on information about past physical irregularities. Five minutes later, the images were adjusted for custom specifications by the doctor and ready to be made into new insoles.
The insoles can be made in the U.S., Spain, South America or Canada. The price range is about $200 to $600, depending on the amount of corrections to be made and on the locations of the practitioner or retailer conducting the scanning and the customer, Hinshaw said.
"They could be delivered anywhere from a week to 10 days," he said.
Today, IM Custom has about 30 foot scanners operating, mainly in South America, Europe, India and the Middle East. Most are in Sao Paolo, Brazil, Hinshaw said. Another 100 scanners are being delivered and set up at various locales. The scanners, priced at about $5,000, are used by podiatrists and shoe stores to help consumers obtain custom-made insoles that more closely conform to a person's feet.
IM Custom also makes a line of ready-made insoles ranging from $89 to $109 that are sold on its website and will be sold in the future through distributors, Hinshaw said.
3-D and Dynamic
Insoles made from the company's 3-D scanner are better because they use three synchronized cameras that can provide sharper images and can be digitally manipulated and transmitted, he said.
"This is the first three-dimensional dynamic scanning machine," he said. "There are other static scanners that exist today. But we've come up with one at a better price and a better technology, and most importantly, we're digitizing people's feet. We're giving them their own foot file."
Hinshaw credited having access to existing technology for the relatively quick development of the scanning device. "The use of both Google's Android operating system and Chrome's graphic interface and Amazon's existing database system allowed us to produce and make this system at a very affordable price," he said.
Matt Coleman, the majority owner of IM Custom, invested "more than seven figures" into the venture and plans to roll out the scanners in several of the Good Feet retail stores he's owned for the last eight years, he said.
Based in Carlsbad, Good Feet Stores is a maker and retailer of foot orthotics and has about 100 stories in the U.S. and overseas.