FINANCE: GLOBAL'S BUY OFFERS UNDER-BANKED PURCHASING POWER
Co. Brings Alternative To Alternative Lending
Friday, March 28, 2014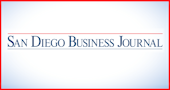 San Diego-based Global Analytics Holdings Inc., which operates a lending platform for the under-banked in the United Kingdom, bought an online business that enables employees to buy goods at zero interest and repay their debt through regular payroll deductions.
CEO Michael Thiemann said the acquisition of Workpays.me, the price of which wasn't disclosed, will provide a way for folks who don't use or cannot obtain credit cards to buy things they need without paying exorbitant financing costs usually charged by alternative lenders.
"This is a group of customers that typically don't have a way to buy things online," Thiemann said. "They don't have credit cards or checking accounts, and they're typically going to a rent-to-own shop or taking out a payday loan, and paying three times the price."
Under the Workpays.me platform, workers at a business where the service is offered buy items, paying close to the market retail price. They repay the cost through a direct repayment plan lasting up to a year, having the payments withdrawn from their paychecks, at 0 percent interest, and without any fees.
Workpays.me obtains the goods at wholesale prices and makes its profit on the margins it charges on the transactions. Currently, the site offers some 20,000 items, ranging from electronics to furniture, and has a base of several million customers, the company said.
Change of Strategy
Formed by former employees of HNC Software in 2003, Global Analytics changed its business strategy in 2008 to become a financing provider to the sizable segment of consumers who don't have access to traditional financing methods, and usually deal in cash.
In this country, the group referred to as "under-banked" because many don't have a bank account accounts for about 20 percent of the population, which means more than 63 million.
"It's a huge market, literally billions of dollars," Thiemann said.
To determine how much money an employee using Workpays.me could be advanced for purchases, Global Analytics uses its sophisticated software underwriting programs based on the software HNC developed for its signature Falcon fraud detection program. Those systems are used by most banks and credit cards lenders to figure whether a sudden blip in purchases is authentic or because the card was stolen. In 2002, HNC was acquired by Fair Isaac Corp., which developed FICO scores, for $810 million.
Workpays.me was founded in 2012 near Philadelphia by three entrepreneurs. It has about 15 employees, and job openings for eight more. Global Analytics has about 320 total employees, including 23 employees at its University City headquarters and some 300 skilled technicians at its India operations. The latter consists of two offices in Delhi and Chennai. The Delhi site also has a call center with about 150 contracted workers.
Nigel Morris, an adviser to Global Analytics and co-founder of Capital One Financial Services, said Workpays.me's expertise in procurement, logistics and merchandising together with Global's experience in lending, payments and underwriting creates a powerful combination.
"Providing a way for consumers with poor access to credit to buy products at standard market prices with 0 percent over 12 months is a true breakthrough, a win-win for both the employee and employer," he said.
Thiemann didn't disclose the new company's annual sales, except that it was fast-growing and result in Global's revenue to continue increasing at a 30 to 50 percent rate annually.
The Data Scene
Global rolled out an initial financing platform called Zebit in the United Kingdom in 2011. That online business provides unsecured loans to under-banked customers, conducting underwriting and cash advances within minutes of an application. The system uses a vast amount of data culled from a variety of sources to determine whether a borrower is a good risk and what their repayment rate will be. Those rates are far better than what is charged by pay-day lenders and most other cash advance lenders, Thiemann said.
Included in the data could be whether the borrower has lots of Facebook friends and the length of time lived at an address, or how long they've worked at a job. Last year, Thiemann said Zebit and sister business Lending Stream generated more than $100 million in revenue, above the $80 million generated in 2012.
Last year, Global Analytics obtained a $30 million debt financing provided by Crystal Financial LLC. Since 2009, the company raised $65 million in venture capital equity investment in four rounds from several VCs including Crosslink Capital of San Francisco, Mohr Davidow Ventures, Leapfrog Ventures and QED Investors.
Before Global Analytics decided to buy Workpays.me, Thiemann said the company looked at a dozen potential companies to extend its lending model in this country.
"This is really a disruptive innovation," he said. "It allows these customers to get the things they need at attractive terms … and get them at prices that are no more expensive than they would get them through Amazon, and without paying any interest or fees."
GLOBAL ANALYTICS HOLDINGS INC.
CEO: Michael Thiemann
No. of local employees: 23
Investors: Several venture capital firms, including Crystal Financial LLC, Crosslink Capital, Mohr Davidow Ventures, Leapfrog Ventures and QED Investors
Headquarters: University City
Year founded: 2003
Company description: Operates a lending platform for the under-banked in the United Kingdom as well as a newly acquired online retail business that caters to a similar demographic by letting people buy goods and pay for them by payroll deduction and without interest or fees
Key factors for success: Finding profitable ways and markets to expand its lending model