Gary and Mary West Health Investment Fund Announces Sale of Sense4Baby Inc.'s Assets
Thursday, March 27, 2014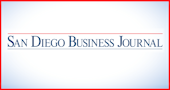 The Gary and Mary West Health Investment Fund made a series of announcements – most notably that the assets of Sense4Baby Inc., its smartphone-based pregnancy monitoring company, have been acquired by San Antonio's AirStrip Technologies LP.
Furthermore, West Health Investment Fund participated in the $7.5 million Series A financing of San Diego-based based Reflexion Health Inc., which resides in the West Health incubator and is developing a software platform for rehabilitation. It also participated in a $5 million equity investment in New Jersey-based Svelte Medical Systems Inc., which is developing less-invasive forms of cardiac treatments.
Each of these companies plays a role to lowering the cost of health care – central to the mission of West Health, Nicholas Valeriani, manager of the West Health Investment Fund and chief executive of West Health, said in a statement.