Navy Completes Initial Test Flights for Northrop Unmanned Aircraft
Monday, March 24, 2014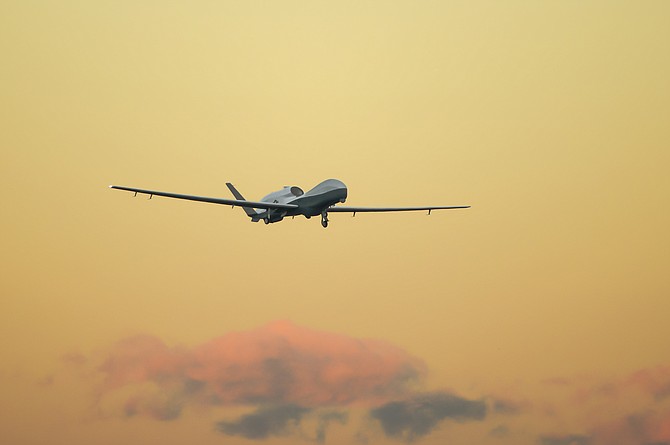 The U.S. Navy finished initial flight tests for its Triton unmanned aircraft on March 13 in Palmdale, according to a news release from Naval Air Systems Command.
Triton is based on the Global Hawk aircraft that Northrop Grumman Corp. builds for the U.S. Air Force. It will carry a suite of sensors suited for gathering intelligence over the ocean.
Northrop Grumman (NYSE: NOC) bases all of its unmanned aircraft projects in Rancho Bernardo.
The Triton flew 81 hours and reached an altitude of 59,950 feet during 13 test flights, the Navy said in a statement issued March 21.
The test program is called initial envelope enhancement.
Software and sensors are being tested separately on a surrogate aircraft, the Navy said. The gear includes a multifunction array sensor configured for the maritime environment.
The Navy plans to send the Triton and a sister aircraft in the summer to Naval Air Station Patuxent River, Md., where Naval Air Systems Command is based. Crews will install the sensor suites aboard the aircraft in Maryland, and flight tests will continue there.
The Navy plans to buy 68 Tritons for intelligence, surveillance and reconnaissance, according to the builder, using them in conjunction with its new P-8 Poseidon aircraft from Boeing Co. (NYSE: BA). Australia recently said it planned to buy an unspecified number of Tritons.
In other news, Northrop Grumman delivered one Global Hawk of its Lot 10 contract, ahead of schedule and on cost, Feb. 14 to Grand Forks Air Force Base in North Dakota, the company said. The aircraft is a Block 40 model, referring to the sensor suite on the aircraft. Northrop Grumman said it plans to deliver two more aircraft, a Block 40 model and a final Block 30 model, later this year.
There are 42 Global Hawks in use around the world, with 32 in the Air Force inventory, according to Northrop Grumman.
The company expects to receive its Lot 11 contract, covering three more aircraft, in the summer.
The Virginia-based defense contractor said Global Hawk's cost per flight hour is decreasing — an important consideration for the Air Force, which has announced plans to use the Global Hawk as a replacement for the U-2 built by Lockheed Martin Corp. (NYSE: LMT).
Cost per flight hour was $23,800 in fiscal 2013, down 30 percent since 2012, Northrop Grumman said, citing Air Force statistics.
"As our fixed-support costs remain constant and flying hours increase, Global Hawk's cost per flight hour will continue to decrease," the company said in a statement.