Construction Complete on UCSD Biomedical Research Facility
Friday, March 21, 2014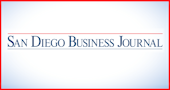 Construction is complete for the new, $113 million University of California, San Diego Health Sciences Biomedical Research Facility.
The 196,000-square-foot laboratory complex was built by McCarthy Building Cos. Inc. It was built using sustainable materials, and was designed to qualify for the LEED Platinum designation, UC San Diego said.
The La Jolla building will accommodate a number of programs, including bioinformatics, genomic medicine, pathology, immunology and psychiatry research.
"Researchers from many departments and programs will unite and collaborate here to produce new therapies that will save lives," Mark Rowland, the project's principal architect, said in a statement.