County's February Median Housing Price Is $410,000
Thursday, March 13, 2014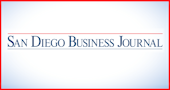 The median price of a single family house in San Diego County in February was $410,000, up $5,000 from January, but down from the peak in June of $416,000, according to Dataquick, the La Jolla real estate research firm.
The median price was 14 percent above the price in January 2013, the report stated.
Sales of local houses in January fell to 2,541, down 8.6 percent from the same month in 2013, reflective of a trend that was evident throughout Southern California.
In fact home sales dropped to the lowest levels in six years, as many buyers struggled with less selection, credit hurdles and reduced affordability, Dataquick said.
John Walsh, Dataquick president, said inventory is increasing as it often does during the spring, "but so far there hasn't been an explosion of new listings, and new home construction is still well below average."
"The March through May data will give us a better sense of what's been holding back activity the most—supply constraints or the double whammy of higher prices and higher mortgage rates," Walsh said.
Cash buyers continue to exert major impact on the regional housing market, and accounted for 31 percent of total sales in February, up from 29 percent in January. Yet the ratio was down from a year earlier when they made up a record 37 percent of all sales in Southern California.
Cash buyers paid a median of $340,000 last month, up 28.3 percent from the same month in 2013, Dataquick said.