Superheroes of San Diego Thanked for Health Care Heroics
Friday, March 7, 2014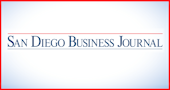 More than 1,000 attendees at the 2-1-1 San Diego Annual Connections Luncheon recently netted $250,000 to support the community health and disaster support service and to recognize the local heroes providing San Diegans with health care resources.
Community and business leaders and local elected officials were in the audience to not only express support for 2-1-1 San Diego, but also for the region's leading service providers that have made access to health care easier for San Diegans. Live Well San Diego, San Diegans for Healthcare Coverage and Legal Aid Society of San Diego Inc. were honored at the event, which featured a "Superheroes of San Diego" theme.
John Ohanian, CEO of 2-1-1 San Diego, said each year 2-1-1 connects individuals in need with programs and services that can help, and the luncheon honors program partners that have done an exceptional job of delivering assistance to callers. Then-interim Mayor Todd Gloria was the event's emcee. Also recognized was Bud Beck, a 2-1-1 board member, who was presented the Henry Haimsohn Volunteer of the Year Award. For more information, visit www.211sandiego.org.
Schubach Aviation has again this year elected to sponsor Shelter to Soldier, a private San Diego 501(c)3 nonprofit organization whose mission is to train carefully selected shelter dogs and place them with U.S. military veterans afflicted with post-traumatic stress disorder who will benefit from owning a service companion. In 2013, in addition to hosting a major fundraising event that raised $20,000 for Shelter to Soldier, the company donated another $9,374.

Shelter to Soldier's president and founder, Graham Bloem, expressed appreciation to Schubach for its continued support. He said the average cost to rescue and train a dog before placing it with a veteran is $8,000 to $10,000. The organization relies solely on donations from individuals and businesses.
Every day, approximately 10,000 unwanted dogs are euthanized at shelters across America. The suicide rate among the nation's active duty military personnel spiked this past year, surpassing the number of soldiers who've died in battle and setting a record annual high since the start of the wars in Iraq and Afghanistan more than a decade ago. To donate, visit www.specialtydogtraining.com/shelter-to-soldier/.
The Avon Foundation for Women's breast health outreach program has awarded a one-year, $50,000 grant to Vista Community Clinic's breast health program to increase awareness of the life-saving benefits of early detection of breast cancer. It is the 14th year that the clinic has received funding from the Avon Foundation for Women to support its work on this important health issue.
Jen Finkelstein, a supervisor in North County Lifeline's Youth Development department, was awarded the 2014 Ruby Award for Women Helping Women, presented annually by Soroptimist International of La Mesa. Finkelstein educates teens about sexual health and decision-making. Her curriculum includes Lifeline's Girls Power Hour, which provides a safe setting for young women to share and explore sensitive topics.
Please email kudos/giving items to sglidden@sdbj.com.