BIOTECH: VENTER ENVISIONS SHIFT TO PREVENTIVE MEDICINE THROUGH GENOMICS RESEARCH
New Co. Looks to Extend Our Expiration Dates
Friday, March 7, 2014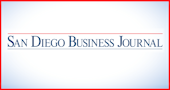 San Diego super scientist J. Craig Venter has launched a new company, Human Longevity Inc., with an ambitious — albeit ambiguous — pursuit: make people live longer.
The materials and methods of this aim are clearer, however. With co-founders Robert Hariri, a stem cell pioneer, and Peter Diamandis, who founded the X Prize Foundation, Venter has already raised $70 million in initial investor funding for the new company. HLI, as Venter refers to the company, will meld the areas of stem cell, microbic and genomics research in efforts to create a broad picture of the human aging process, disease and the secrets to longevity.
The funding is being used to build "the largest human sequencing operation in the world" to compile a comprehensive portfolio of individuals' genetic information and medical history, the company said.
"HLI is going to change the way medicine is practiced by helping to shift to a more preventative, genome-based medicine model, which we believe will lower health care costs," Venter said. "Our goal is not necessarily lengthening life, but extending a healthier, high-performing, more productive life span."
The Series A funding round comes in part from a Malaysian investment firm that is also the main investor in Synthetic Genomics Inc., another area company started by Venter. Other backers include Illumina Inc. and other individual investors.
"The global market for healthy human longevity is enormous," Hariri said, adding that total health care expenditures associated with people 65 and older is running well over $7 trillion.
Equipped With $20M of Machines
Venter, a storied San Diego visionary, is known for being one of the first to sequence the entire human genome and for creating the first cell with a synthetic genome. He will be HLI's chairman and CEO, titles he also holds at Synthetic Genomics, a La Jolla company that genetically engineers organisms like algae so they can be used for food, chemicals and fuel.
HLI has bought two of Illumina's HiSeq X Ten sequencing machines, which cost $10 million apiece, and has the option to buy three more. It will sequence the genomes of 40,000 people per year and plans to scale up to 100,000 human genomes per year.
The company said it plans to generate revenue through database licensing to pharmaceutical, biotechnology and academic organizations. It also expects to turn profit from sequencing and developing advanced diagnostics and therapeutics.
Seeking to Understand Microbes
The new company is collaborating with the University of California, San Diego to recruit a patient base to sequence, so as to understand the specifics of the genetics behind aging and disease. A partnership has already begun with the UC San Diego Moores Cancer Center, and the company said it hopes to extend this sort of agreement to other clinical centers worldwide.
HLI is also collaborating with North Carolina-based biochemical profiling company Metabolon Inc. and the J. Craig Venter Institute.
In addition to using genomic data taken from sequencing complete human genomes, HLI will gather what's known as "microbiome data" through its Biome Healthcare division, which focuses on all the microbes that live in and on the human body and impact health and disease.
By better understanding the nature of the microbes in the gut, mouth, skin, lungs and other parts of the body, HLI hopes to develop probiotics, advanced diagnostics and therapeutics to improve health and wellness, the company said. It will attempt to apply stem cell therapy in ways to enhance and improve healthy life spans.