DINING: PLANS INCLUDE OPENING FIRST LOCATION IN TEXAS, MORE LOCALLY
Luna Grill Carefully Plots Expansion Course for Restaurant Chain
Friday, March 7, 2014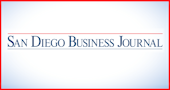 For San Diego-based restaurant operator Premier Food Concepts LLC, the recipe for growth is a careful blending of healthy menu items, strategic site selections and patience.
The company opened its first Luna Grill restaurant in 2004 and chose not to expand beyond its initial Carmel Valley site until 2010. It recently opened its 11th restaurant, in Poway, and its location count is expected to nearly double by year's end as it expands into suburban Dallas — marking its first foray outside Southern California.
"We see Dallas as a good place to test out this concept in terms of what's already out there in that market," said CEO and co-founder Sean Pourteymour, whose fast-casual
eateries serve
Mediterranean-style items like kebabs, sandwiches and wraps.
Premier currently employs 300, and that number is expected to reach 800 by year's end once the company has 20 stores operating, Pourteymour said. The company has set a goal to have 40 locations operating by the end of 2016.
To oversee expansion, Premier last year brought in industry veteran Dan Lowe, formerly with Chipotle Mexican Grill, as operations manager. It is also hiring its first director of real estate to supervise vetting and acquisition of locations.
The company has tinkered over the years with its menu and service mix, and officials believe Premier's health-oriented focus can transfer well beyond San Diego and Orange counties, where the restaurants are presently concentrated. Preferred locations for the restaurants — all company-run, not franchised — are those that enable the company to draw from the local neighborhood and commercial business centers, in order to keep lunch and dinner traffic steady throughout the week.
"We get the families, but we also get the bodybuilders coming in because they want to eat healthy," Pourteymour said.
Gradually Getting Lenders to Look
Pourteymour oversees the restaurants with his wife, co-founder Maria
Pourteymour, who is the privately held company's "chief cuisine officer." The CEO said Premier has been careful in choosing new locations that don't cannibalize sales from one another and that serve distinct geographic and demographic segments.
Company revenue topped $11.3 million in 2013, up 35 percent from the prior year, he said. Rising sales and a generally improving consumer climate have helped it obtain financing to support upcoming growth, including a line of credit it recently secured from Argent Bank, a subsidiary of Sterling Financial Corp.
The credit line will increase from its current $2.5 million to about $5.5 million by the time Premier completes its 2014 expansion program, with the potential to be raised further as needed.
"Getting financing for restaurants in general is still very difficult, especially for those who have just one or two locations," the CEO said. "We have gradually and carefully built this to where lenders will now take a look at us."
Premier competes in a post-recession restaurant economy that has been a mixed bag for various U.S. restaurant brands and concepts, most experiencing thin profit margins despite rising sales.
Revenue growth for the $191 billion fast-food category and the $87 billion full-
service segment has been slim for the past five years — 1 to 1.5 percent annually — and it is expected to remain so in both industry segments for the next five years, research company IBISWorld Inc. recently reported.
IBISWorld has projected 1.9 percent average annual sales growth for the nation's fast-food and fast-casual eateries for the next half-decade, with 2.5 percent growth expected on the full-service side.
Researchers said restaurants generally have seen sales return to pre-recession levels, and many local, regional and national chains are now expanding rapidly, while investing in labor-saving technology to keep costs in check.
Hybrid Eatery Targets Mid-Price Point
Pourteymour describes Luna Grill as a "hybrid" between a fast-casual and a sit-down, full-service eatery. Customers order at a counter, but food is brought to the table by servers, who also attend to drink refills and other requests.
Meal tabs range on average from $8 to $12 — higher than fast-food but lower than most full-service eateries. Pourteymour said Premier over the years has kept close watch on fluctuating commodity prices and made necessary menu adjustments to maintain quality and pricing.
By year's end, Premier plans to have new Luna Grill restaurants open in Rancho San Diego to serve the southeastern portion of the city, as well as the Orange County cities of Huntington Beach and Aliso Viejo.
The first Texas store is scheduled to open this summer in Flower Mound in the Dallas-Fort Worth metro region, and the company will be scouting long term for more sites in Texas, Arizona and Colorado, among other states.
PREMIER FOOD CONCEPTS LLC
CEO: Sean Pourteymour
Revenue: $11.3 million in 2013
No. of local employees: 300
Headquarters: University Towne Center
Year founded: 2004
Company description: Operates 11 Luna Grill restaurants, with more in development
Key factors for success: Health-oriented menu, strategic selection of new locations