Maxwell Technologies Sees Stock Jump 38% During 3 Trading Days
Tuesday, March 4, 2014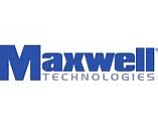 Shares of Kearny Mesa ultracapacitor-maker Maxwell Technologies Inc. rose 38 percent in three days of trading on Feb. 28, March 3 and March 4, closing at a 52-week high of $12.23.
The market's interest in electric vehicles might be driving the stock, said a company spokesman, adding that Maxwell (Nasdaq: MXWL) presented at the Stifel Nicolaus investor conference Feb. 27 in New York. Maxwell products are used in electric vehicles, he said.
The website Seeking Alpha reported that investors might be optimistic about Maxwell because Tesla Motors Inc., the maker of high-end electric autos, said recently that it wants to build a large battery factory in the southwestern United States. But a Maxwell spokesman dismissed that talk.
"We don't have any business arrangement with Tesla," said spokesman Mike Sund.
Sund also said that the run-up might be a result of investors trying to cover a short position in Maxwell stock.
Trading volume on Maxwell shares during the three days was above average, at 1.9 million shares, 1.2 million shares and 2.2 million shares. During an average day, some 378,000 shares of Maxwell Technologies stock trade hands, according to Yahoo Finance.
During the three days, Maxwell made no filings with the Securities and Exchange Commission. Its only news release came March 3, when the company gave notice that interim CEO John Warwick will present at the Roth Capital Investor Conference on March 10 in Dana Point.
Maxwell shares rose 15.5 percent March 4.