Abide to Receive $50M Upfront in Collaboration with Celgene Corp.
Originally published March 2, 2014 at 4:05 p.m., updated March 6, 2014 at 9:14 a.m.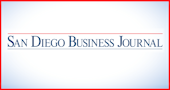 Privately held Abide Therapeutics Inc. has partnered with biotech titan Celgene Corp. to develop new drugs in inflammation and immunology, receiving $50 million upfront in the deal.
The Princeton, N.J.-based Celgene has taken a small equity stake in Abide, and has received the exclusive option to acquire Abide.
San Diego-based Abide has also received $10 million in Series B funding from its original investor, Cardinal Partners. Abide was founded in 2011, and its enzyme-based therapies are based on research from The Scripps Research Institute. Its most advanced drug candidate, called AB101131, is expected to enter clinical trials in 2015.