Hyatt Regency La Jolla Completes $12 Million Renovation
Thursday, June 26, 2014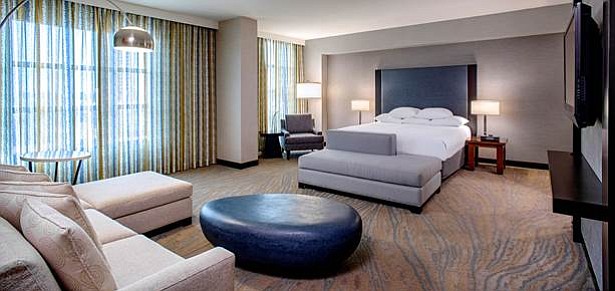 Hyatt Regency La Jolla has completed a $12 million renovation that included a makeover of the hotel's 417 guestrooms, lobby, public areas and meeting space.
Operators said the project, overseen by interior design firm Indidesign, included a redesign of bathrooms and bedrooms with a contemporary "coastal chic" aesthetic. Rooms have new lighting fixtures and furnishings, including chairs, headboards and TV stands.
The 11-acre property is at 3777 La Jolla Village Drive in the mixed-use Aventine office and restaurant development near Interstate 5. The hotel, which opened in 1989, includes the 32,000-square-foot Sporting Club and spa and 32,000 square feet of function space.