PROPERTY: $250 MILLION MIXED-USE PROJECT COUNTS ON DOWNTOWN CACHET
Developer Plans 2 Towers on Downtown Block
Friday, June 20, 2014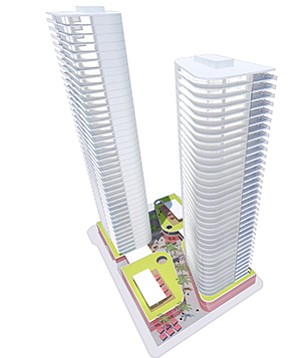 Zephyr Partners is counting on continued rising demand for residential units in downtown San Diego, with plans in the works for a $250 million mixed-use project with two high-rise condominium towers.
The Encinitas-based developer recently bought one of downtown's last remaining full blocks of available property — on Broadway between Seventh and Eighth avenues — for $21.1 million. The site, sold to Zephyr by Elajou
Investment Group, currently houses eight aging and underused buildings — dating back to the 1950s — including a grocery market and the vacated former site of a used bookstore, all of which would be demolished.
Zephyr Partners plans to submit formal plans within the next 90 days to Civic San Diego, the city's downtown project oversight agency, for what would include two 32-story towers containing residential units and a potential boutique hotel, co-CEO
Brad Termini said. Also planned are pedestrian walkways and 60,000 square feet of retail space, which would be included in separate low-rise buildings on the property.
It would be the first high-rise, mixed-use project built in San Diego since the recession, developers said.
Developers are in talks with several retail and hotel operators to locate in the project, which would break ground in late 2015 and likely be completed in 2017, Termini said. The bulk of the project's maximum of 750 residential units will be for-sale condominiums, although the mix of elements has not been finalized and could also include rental apartments.
Getting to the Urban Core
Termini said the location is well-suited to capitalize on proximity to downtown's core office district, as well as the popular Gaslamp Quarter. Developers see the new mixed-use project as a link between the two neighborhoods, where office workers and tourists could come to shop, and where those who work downtown could also reside. The site is also within close walking distance to downtown trolley stops.
"The plan is to make this a place where people can work, play, dine and shop in one element," Termini said.
While downtown has about 2,000 apartments in various stages of completion, the neighborhood has yet to return to the booming development of for-sale condos that was in full bloom a decade ago.
Termini said the downtown area is seeing rising demand among residents who want to live in an urban environment with lots of amenities nearby. The urban focus is also part of Zephyr's recently announced luxury condominium project on Sixth Avenue in Bankers Hill, set to include 60 high-end for-sale units and expected to be completed in 2017.
The appeal of the location for its latest downtown project, Termini said, was demonstrated recently when Hammer Ventures of San Diego bought the nearby 1925 vintage, 14-story office building at 625 Broadway for $52.5 million, with plans to convert the building into a residential property.
Zephyr was founded in 2008 by Termini and Dane Chapin, working with other local entrepreneurs. Its investment and development projects are primarily residential, with other condo and single-family projects completed or underway in North County and East County.