Part of BAE Systems $7.8M Weapons Work to Be Done in National City
Thursday, June 19, 2014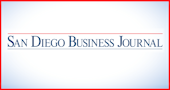 The U.S. Navy awarded BAE Systems a three-year deal for pier side maintenance and repair services for its 1-inch machine gun systems. One third of the work under the $7.8 million contract will be done in National City.
The 25mm gun, called the MK 38, can shoot up to 180 rounds per minute and has a range of 1.5 miles, according to the U.S. Navy Fact File website.
The Navy says the gun is a way for ships to defend themselves against small-boat attacks, such as the one that delivered the bomb to the USS Cole in 2000. Cruisers, destroyers, frigates, amphibious ships and U.S. Coast Guard fast-response cutters carry the weapon.
Work is being coordinated through the Louisville, Ky.-based Armament Systems Division of BAE Systems Land & Armaments LP.
The Naval Surface Warfare Center's Indian Head Explosive Ordnance Disposal Technology Division, in Maryland, awarded the deal that was announced on June 19.