La Jolla Pharmaceutical Enters Agreement With Stanford
Tuesday, June 17, 2014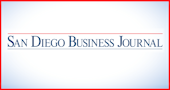 La Jolla Pharmaceutical Co. has signed an option agreement with Stanford University that will add proprietary technology to its programs, the pharma company said.
The agreement with Stanford allows the company to test Stanford's technology, potentially adding important and diversified product opportunities to the company's pipeline, according to San Diego-based La Jolla Pharmaceutical (NASDAQ: LJPC).
La Jolla is currently testing novel oral formulations using the technology in an animal model of non-alcoholic steatohepatitis, or liver disease. If successful, these product candidates will add to the company's growing pipeline, which includes treatments for chronic kidney disease, hepatorenal syndrome, chronic iron overload and rare diseases.
"We look forward to working with Stanford to develop their technology," said George Tidmarsh, president and CEO of La Jolla. "As we continue to expand our product portfolio, we remain committed to helping patients who suffer from severe diseases for which no treatment is available."
La Jolla is a biopharmaceutical company focusing on the discovery, development and commercialization of innovative therapeutics for chronic organ failure, cancer and unmet life-threatening diseases.