TECH: CHINESE BUSES, TESLA CARS HOLD POTENTIAL FOR CO.'S PRODUCTS
Maxwell Basking in Stock Market's Glow
Friday, June 13, 2014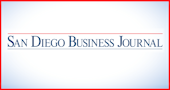 Shareholders of Kearny Mesa-based Maxwell Technologies Inc. have enjoyed an exhilarating ride since Jan. 1, with the stock appreciating 123 percent as of June 9.
While Maxwell serves several markets, it's gaining substantial momentum from its role in getting people where they need to go. Maxwell (Nasdaq: MXWL) makes heavy-duty capacitors — electronic devices that are distant
cousins to batteries, which rapidly discharge and quickly recharge again. One of their uses is in autos.
"Transportation is one of the most lucrative markets that Maxwell serves," said Mark Rossi, chairman of Maxwell's board.
In March, investors seemed to act on a rumor that Maxwell is poised to supply parts to luxury electric car maker Tesla Motors Inc. (Nasdaq: TSLA). And although that rumor has been hard to verify, Maxwell's share price increased dramatically early in March when an analyst from Piper Jaffray almost doubled his price target for the shares, suggesting potential auto industry wins and reportedly adding that Tesla CEO Elon Musk has an "affinity for ultracapacitors." Piper Jaffray declined to make the analyst available or share his research note.
As of June 9, Maxwell shares had appreciated to $17.37 — 123 percent higher than their closing price of $7.77 on Dec. 31. Shares touched a two-year high of $18.43 on March 27.
Maxwell appears to be seizing on its heightened status in the investment community. The company told securities regulators June 3 that it plans to issue up to $125 million of common stock, debt securities or warrants under a shelf registration — which had not yet gone into effect. Maxwell plans to use proceeds for working capital and general corporate purposes, including product development, production, and capital expenditures such as facility expansions, acquisitions or repaying debts. The company had 29.9 million shares outstanding as of March 31.
Maxwell bills itself as a leader in ultracapacitors for the vehicle market. Its only mass-market auto industry customer is Continental AG, which makes an engine shutoff and restart system for PSA Peugeot Citroen. Maxwell ultracapacitors are also part of some Lamborghini models. And while its executives expect more automotive work before the year is over, they declined to discuss potential customers by name.
Nevertheless, Chief Operating Officer John Warwick — who spoke to analysts during Maxwell's first-quarter conference call on May 1 — said the company is close to finalizing deals for work involving the 2016 model year. He described the company's progress along those lines as well beyond submitting requests for qualifications, saying the company has had several discussions and is going through final checks before others can grant Maxwell their work.
"We're very confident it will happen this year," Warwick said.
New CEO Enters Positive Situation
CEO Franz Fink's first day at Maxwell was May 1, which is why Warwick spoke on the company's behalf during that day's conference call. In a subsequent interview, Fink said he thinks Maxwell's future is bright as more electrically powered autos, trucks, buses and trains start operating.
Roth Capital Partners LLC upgraded its rating on Maxwell's stock from "neutral" to "buy" on May 2. In addition to a potential auto deal, Roth analyst Philip Shen said Maxwell beat first-quarter expectations with $46 million in revenue and has a healthy outlook for the second quarter. He also noted that Maxwell is putting together a memorandum of understanding with Corning Inc. (NYSE: GLW), has other promising products in its pipeline, and seems to be doing well in the Chinese bus market.
"We see multiple high-probability catalysts ahead that could drive the stock higher; execution is now critical," Shen wrote.
Nearly half of Maxwell's 2013 revenue came from China, and the biggest chunk of Maxwell's ultracapacitor revenue — 41 percent — comes from the Chinese bus market. Business there depends on the direction of the Chinese government, which provides subsidies for the vehicles.
Growth "might be a little bit lumpy," Fink said, adding that he expects the business to ramp up at some point.
New Boss's Auto Experience a Plus
Against this backdrop, Maxwell's new CEO is getting up to speed.
Fink, 52, succeeds David Schramm, a 65-year-old former senior manager with General Motors Co., who retired Dec. 31 after six and a half years as CEO at Maxwell. Warwick, the COO, was CEO for the first four months of 2014.
Fink, who holds a doctorate from the Technical Institute of Munich in Germany, comes to San Diego from Austin, Texas. Prior to joining Maxwell, he led Gennum Corp., a semiconductor company acquired in 2012 by Semtech Corp. He previously held senior management jobs with Freescale Semiconductor Inc. and Motorola Corp.
Fink got the job as CEO because of his energy; intellect; broad business experience, including work in public companies and the auto industry; and his record of bringing innovation to the marketplace, board Chairman Rossi said.
Rossi is a managing director of Connecticut-based Cornerstone Equity Investors LLC and holds a personal stake in Maxwell.
Fink's "extensive experience selling into automotive" original equipment manufacturers is good to have, wrote Shen, the analyst with Roth Capital.
Other Business Opportunities
Besides its products for trucks, Maxwell provides ultracapacitors that, in the event of a power failure, change the pitch of the blades on electricity-generating windmills. There is a substantial Chinese market for them.
There are two other major segments of the business: high-voltage capacitors for utility grids and radiation-hardened microelectronics for space. While the latter is represents a minor slice — 7 percent — of Maxwell's revenue pie, it's being affected by Russia's activity in Crimea and Ukraine. Warwick told the investment community on May 1 that Maxwell can't sell microelectronics to Russia since the U.S. has put a hold on export licenses. If the hold lasts all year, the company may lose up to $2 million in potential revenue, Warwick said.
Maxwell has factories in San Diego and Peoria, Arizona. It makes electrodes in the United States to keep its technology proprietary. Two plants in China make products for which the technology is less sensitive.
The business is adding employees. As of May 31 Maxwell Technologies had 450 employees globally, up from 380 one year ago.