EvoNexus Admits 9 Startups to Incubator
Friday, June 13, 2014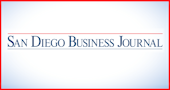 EvoNexus, the San Diego startup incubator for tech companies, admitted nine new companies.
The companies admitted in this round were AllSeq, Footprints Mobile Data, Hush Technology, Koriist, Nanomedical Diagnostics, Omniome, PlayMotion, Skylit and Tab32. For more information on the companies, click here.
Seven of the nine companies were digital health related startups, EvoNexus said.
"This is a technology vertical CommNexus is focusing on and we're excited to see this trend being followed with the startups," said Rory Moore, CEO of CommNexus and EvoNexus. "The smart-phone, ubiquitous broadband wireless, mobile apps, wearables, advanced semiconductors and the sky-rocketing cost of health care are compelling elements to enable digital health to be an important new cluster in San Diego."
There were 104 applicants for this round.
EvoNexus is the technology incubator of CommNexus, a nonprofit trade organization that works to bolster Southern California high-tech industries.
EvoNexus said the next round of applications closes August 2014.
The incubator said its continuing strategic alliance with Qualcomm and its new alliance with Cisco Systems should help draw a large pool of applicants.
EvoNexus and Cisco announced a collaborative effort CiscoEIR@EvoNexus, short for Cisco Entrepreneurs in Residence at EvoNexus, that will combine the global reach and support of Cisco with EvoNexus' successful incubation model, CommNexus said recently.