Nominations Are Open for San Diego's Healthcare Champions Awards
Thursday, June 12, 2014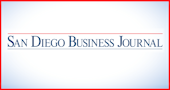 The San Diego Business Journal is now accepting nominations for 2014 Healthcare Champions awards, which honors individuals within the San Diego community who have demonstrated exceptional leadership and innovation in the health care industry.
The awards program is set for Thursday, August 14, and will recognize finalists and winners in categories, including community leader, company CEO or president, company executive, emergency medicine, health care agency executive, health care entrepreneur, health care innovation, health care IT, nurse, physician, and wellness.
If you have been touched by someone in the industry that has made a difference or know of someone that has gone above and beyond in helping to heal someone, nominate that champion today.
The deadline for nominations is June 19.
Title sponsor for the program is Tri-City Medical Center.
To nominate online: click here.
For additional information, contact the events department at 858-277-6359.