Median Home Price in San Diego Rises in May
Wednesday, June 11, 2014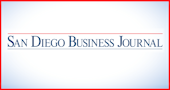 The median price for a house sold in San Diego in May was $440,000, up 1 percent from April's median price and up 8.2 percent from the median price in May 2013, according to Dataquick, the San Diego-based real estate research firm.
Monthly sales in May were flat at 3,654, down only 10 sales from April, but 13.7 percent below the sales total in May 2013.
The same trend was evident throughout Southern California as investor demand fell and buyers continued to face constraints on housing inventory, affordability and credit limitations, Dataquick said.
The median price for the region's six counties was $410,000 last month, up 11.4 percent from the same month last year.
"We expected rising prices to unlock more inventory this spring, and that's happened. But the supply of homes for sale still falls short of demand in many markets, contributing to a rise in prices and a below-average sales pace," Dataquick analyst Andrew LePage said.
Meanwhile, cash buyers aren't as active as they once were, with cash sales accounting for 25.8 percent of total sales last month, down from 32.6 percent of the total in May 2013.