San Diego Opera Beefs Up 2015 Offerings
Monday, June 9, 2014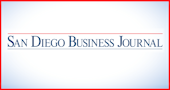 The San Diego Opera, which recently said it would hold a 2015 season, announced three additions to an earlier schedule that had called for three operas and a gala concert starting in January.
The new events are:
• On Sept. 14 at 7 p.m. at the Balboa Theater, Ailyn Perez and Stephen Costello will perform a recital.
• On Dec. 11 at 7 p.m. at the same theater, mezzo-soprano Stephanie Blythe will perform with pianist Craig Terry.
• On April 25 at 2 p.m. and 7 p.m. at the Civic Theater, Mariachi Vargas de Tecalitlan will perform a new mariachi opera, "El Pasado Nunca se Terminar" (The Past is Never Finished).
Ticket subscription prices for the 2015 season and its three operas start at $105. For the operas plus two recitals, a gala concert and the mariachi opera, tickets begin at $215.