Maxwell Technologies Inc. Plans Follow-On Offering
Sunday, June 8, 2014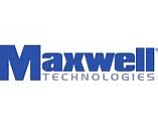 Publicly traded Maxwell Technologies Inc. told securities regulators early this month that it plans a follow-on offering of stock, bonds or warrants.
Specifically, the company plans to issue up to $125 million of common stock, debt securities or warrants under a shelf registration. Maxwell (Nasdaq: MXWL) filed its prospectus June 3 and promised another filing when the registration went into effect.
The company makes heavy-duty capacitors and radiation-hardened microelectronics and had 29.9 million shares outstanding as of March 31. At midday on June 6, shares were trading at $16.93.
Maxwell said it plans to use proceeds from the new offering for working capital and general corporate purposes. Funds may go toward product development, product production, capital expenditures including facility expansions, acquisitions, or the payment of debts, Maxwell said