Staffing Company Launches New Recruitment Division
Thursday, June 5, 2014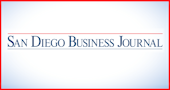 San Diego-based Eastridge Group of Staffing Cos., which said it's among the nation's largest privately held staffing companies, launched a new recruitment division, Eastridge Finance and Accounting.
The firm said the launch comes at a time when industry employers are seeking workers with specialized skill sets in both finance and accounting. The latter group is especially fast-growing with a projected annual rate of 12.5 percent, and will exceed 8 million jobs by 2022, according to the U.S. Bureau of Labor Statistics.
Chalea Pierce, who has 15 years' experience in the staffing sector, will head up the new division.
Seth Stein, Eastridge's president, said the expansion will allow the firm to serve its clients and candidates at a higher level with a more extensive portfolio of recruitment services.