Voters Sink Propositions B and C
Wednesday, June 4, 2014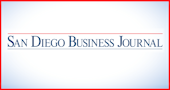 Maritime business interests got what they wanted June 3 as San Diego voters defeated Propositions B and C — and the changes they would have brought to Barrio Logan.
The propositions were referendums on the new community plan and zone changes for the neighborhood, which the San Diego City Council passed in September.
Barrio Logan is home to many ship repair businesses and related industries — but it's also a neighborhood of low-income homes with the potential to grow into a hip part of downtown. The new plan would have made it difficult for some maritime businesses and industries to expand.
The Environmental Health Coalition pushed for the City Council plan, saying it would make conditions more healthful for neighborhood residents. But ship repair businesses and a group of retired U.S. Navy admirals said the council's plan would be bad for business. Some went as far as to call it a first step of moving the shipyards out. The Navy did not comment on the issue.
Unofficial election results released at early June 4 showed Proposition B losing with 58.5 percent of voters saying no, and Proposition C losing with 60.5 percent of voters saying no. At the time there were roughly 129,000 ballots counted, with approximately 98,000 absentee and provisional ballots yet to be counted. The winning side needed a simple majority.