Work Begins in Otay Mesa for Cross-Border Air Terminal
Tuesday, June 3, 2014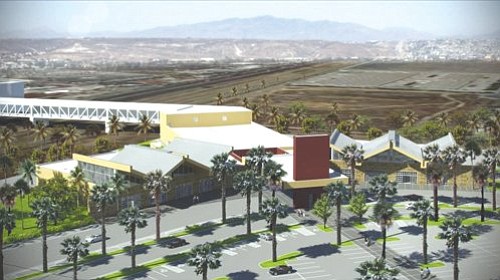 Ground has been broken on the Otay Mesa side on a $78 million cross-border terminal that will give local ticketed airline passengers access to the Tijuana airport on the Mexican side of the international border.
The 95,000-square foot-terminal is being built by a joint venture entity called Otay-Tijuana Venture LLC, which includes Chicago-based Equity Group Investments and two Mexican investment groups, Palareo Inc. and PAP Corp.
Equity Group, a private investment firm owned by billionaire Sam Zell, has been planning the terminal since 2007.
Set for completion in 2015, the terminal will allow ticketed air travelers from the U.S. side to cross a 525-foot bridge and board planes departing from Tijuana's Rodriguez International Airport. The facility will also allow passengers arriving on the Tijuana side to cross into the U.S. via the same facility, after passing customs inspections.
Users of the crossing terminal will pay a toll — still to be finalized — to access the facility.
Construction has been underway on the Mexican side of the border since September, according to developers. Representatives of the joint venture have said U.S. construction will take about 15 months to complete.