Pathway Genomics Launches Gene Test for Breast Cancer
Tuesday, June 3, 2014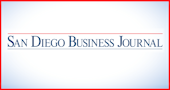 San Diego's Pathway Genomics Corp. has launched test that detects a genetic mutation that causes breast cancer, benefitting from a Supreme Court ruling last year that invalidated patents on genes.
The test, called the BRCATrue, detects the presence of a gene mutation found among families that have multiple cases of the disease. A Salt Lake City-based company called Myriad Genetics Inc. held a patent on tests for the genes, called BRCA1 and BRCA2, stymieing other companies from developing tests for these genes.
But the Supreme Court ruled in April 2013 that the patents on the BRCA genes – or any genes – were invalid, opening up the market for companies such as Pathway Genomics to provide such tests.
Pathway Genomics said the BRCATrue has a sensitivity of higher than 99.99 percent. To make the test more accessible, it has offered that for every tests that is ordered, one will be donated to a person in need through patient advocacy organizations – up to $10 million in free testing.
"One out of every eight women will be affected by breast cancer in her lifetime," Ardy Arianpour, Pathway Genomics' chief strategy officer, said in a statement. "By making our test more accessible, we aim to make a substantial impact in the prevention of breast cancer and help further raise awareness by partnering with global patient advocacy organizations."
This issue came into the media spotlight last year when actress and activist Angelina Jolie announced she had received a double mastectomy after learning she carried the genetic mutations that predisposed her to breast cancer.