TECH: PREDICTIVE ANALYTICS APPLIED TO INDUSTRIAL EQUIPMENT
Mtell's Software Goes Looking For Trouble … Before It Happens
Friday, July 18, 2014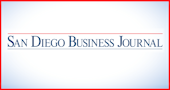 Industrial software writer Mtell might not be able to repeat its recent 375 percent growth spurt, but it's making more people take notice.
Time after time, Mtell goes up against General Electric Co. to pitch customers on innovative software that monitors industrial machinery and predicts when that machinery will likely break down. Mtell regularly brings home the contract, said Mike Brooks, the business president and chief operating officer.
Just for comparison, General Electric had $146 billion in revenue in 2013. To say it is diversified would be an understatement. Mtell has a single focus, a dozen employees in its Mission Valley office, and an enviable growth record: $2.97 million in revenue in 2013, up from 2012, when it barely broke $1 million, and 2011, when it took in $620,000.
Mtell's core technology is something that longtime San Diego business observers may remember seeing before: predictive analytics.
Getting to Know Them
Mtell's software collects very large amounts of sensor data from industrial machines such as oil well pumps and pipeline compressors. The software is able to learn how machines normally behave, and what clues they give prior to breaking down.
Before the turn of the 21st century, a San Diego business called HNC Software Inc. was spotting credit card and insurance fraud by concentrating on ordinary behavior versus out-of-the ordinary behavior. (Fair Isaac closed its acquisition of HNC in August 2002.)
Brooks gave the example of a bank issuing a credit card: If the customer suddenly spent $1,000 at a gentleman's club, and no similar charge had ever appeared on his account before, it might raise a warning. The bank that issued the card might call the customer to ask whether he authorized the charge. If it was indeed an unauthorized charge, the software has successfully ferretted out fraud.
However, if the customer had authorized the charge, the computer learns something: that $1,000 at a nightclub is normal behavior for that customer. The computer will go on to evaluate future transactions in light of that new piece of data.
Its Four Markets
Mtell's software concentrates on industrial machinery in four vertical markets: oil and gas, mining, water and wastewater, and lastly, pharmaceuticals. Brooks said Mtell's software alerts its industrial user at the earliest sign that a machine is degrading.
The company ranked No. 5 on the San Diego Business Journal's 2014 Fastest 100 list, which tracks private companies by percentage growth over two years. Mtell posted 375 percent revenue growth between 2011 and 2013.
Brooks attributes the growth to a big purchase from National Oilwell Varco Inc., a maker of oil drilling equipment that was concerned about the potential for spills in the wake of the Macondo blowout in the Gulf of Mexico in 2010. After spending three years evaluating technology to spot failures, the corporation, also known as NOV, bought 200 software licenses from Mtell. NOV also signed an engineering contract calling on Mtell to develop software to improve safety in its specific situation.
Brooks said the Mtell system reduced downtime of one NOV rig by 72 percent. A machine that is not working is costing its owner money, said Brooks, an affable, animated engineer from Leeds, England, who has worked several times for Chevron Corp.
The name Mtell is shortened from the company's former name, Mtelligence. In April, the Gartner Inc. research house named Mtell one of its Cool Vendors in Oil and Gas.
The company, founded in 2006, is mostly self-funded. Michael Thiemann, CEO of Global Analytics Holdings, is an adviser to the company and an investor. Thiemann has an extensive background in analytics and at one point served as CEO of HNC Financial Solutions.
It is unclear whether the business can continue its jaw-dropping growth. Brooks said the company is "going after elephants," though it is unclear when the elephant will fall — that is, what year the business can book revenue from any anticipated big contract.
There is a chance that a huge publicly traded company might want to gobble up Mtell, Brooks acknowledged. The business may one day take venture capital, he said, but it might be "too tasty" to make it to an initial public offering.
MTELL
CEO: Paul Rahilly
Revenue: $2.97 million
No. of local employees: 12
Investors: Employees, Michael Thiemann
Headquarters: Mission Valley
Year founded: 2006
What makes the company innovative: Offers software that predicts when industrial machinery is just about to fail