Edico Genome Gets $10 Million in Series A Financing
Thursday, July 17, 2014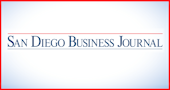 Edico Genome, a San Diego bioinformatics chip maker, announced July 17 that it received $10 million in Series A venture funds.
Qualcomm Ventures led the round, joined by Axon Ventures. Greg Lucier, who was chairman and CEO of Life Technologies before it was sold to Thermo Fisher Scientific Inc., is investing in the company as an individual.
Edico Genome's flagship product is the Dragen Bio-IT Processor, which analyzes genetic data after it is first sequenced. Dragen comes equipped with software for mapping, alignment, sorting and variant calling. The University Towne Center-based company plans to make its chip solution widely available in October.
Edico Genome plans to use its new funds to double its workforce and "engage with customers more aggressively," CEO Pieter van Rooyen said.
Edico said its Dragen chip can analyze a genome faster and much less expensively than competing products. It can cut the time it takes to analyze the entire human genome from 24 hours to 18 minutes, and could conceivably save a business $6 million over four years, the company said.
The chip could one day be part of the gene sequencing machine which turns biological code to computer code, van Rooyen said.
Edico Genome is currently part of the EvoNexus incubator.