San Diego City Council Votes to Raise Minimum Wage
Originally published July 15, 2014 at 4:06 p.m., updated July 15, 2014 at 4:07 p.m.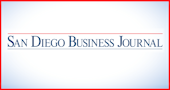 San Diego City Council has voted 6-3 to raise the city's minimum wage to $11.50 an hour by January 2017.
The city's current minimum wage is the California state minimum, which rose from $8 to $9 per hour on July 1. Under the legislation passed by City Council, San Diego's minimum will rise to $9.75 in January 2015, $10.50 in January 2016, and $11.50 in January 2017.
Additional wage increases tied to the local Consumer Price Index are scheduled to begin in January 2019. The ordinance also requires employers to award full-time workers five days of sick leave annually starting in January 2015, with part-time workers earning prorated sick leave based on the number of hours they work.
Supporters of the measure, including all six council Democrats, said the measure was needed to increase the ability of city residents to meet rising household expenses, and keeps the minimum wage lower than in some other cities, including Seattle and San Francisco.
Opponents, including council's three Republicans and local business groups, said the measure would increase consumer prices and drive businesses out of the city.
More than 100 people spoke before the City Cuncil vote at its July 14 meeting. Council opted to enact the measure rather than place a proposal on a future election ballot.
In a statement the day after the vote, the San Diego Regional Chamber of Commerce said it "remains deeply concerned" about the wage hike's potential negative business impacts.
"Raising San Diego's minimum wage and sick leave above and beyond what the state has already mandated puts San Diego at a competitive disadvantage compared to nearby cities," said chamber President and CEO Jerry Sanders. "The Chamber takes the position that regulations concerning wages should be initiated federally to ensure a level playing field, and at a minimum, they should be set at the state level to avoid city-by-city inconsistencies that would put San Diego's job creators at a competitive disadvantage."
Sanders said the chamber is "seriously discussing" with the business community the options available to further oppose the council's decision, but did not say whether a ballot referendum was pending.
"We will be making a decision as to what option we will move forward with very soon," Sanders said.