Scripps Extends Partnership With SCAN to Develop New Products, Services
Monday, July 14, 2014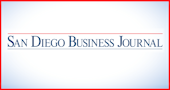 Scripps Health and SCAN Health Plans have entered into a co-branding agreement to explore and develop new products and services designed to serve the growing senior population, the organizations announced.
This new agreement extends the partnership between the two, which began in 2007 with the launch of the SCAN Medicare Advantage plan in San Diego County, according to SCAN.
"Scripps is one of the premier medical providers in the nation, which is why we are so excited to be working together in an effort to bring even more programs and services to seniors in need," said Chris Wing, president and CEO of SCAN.
SCAN, one of the nation's largest not-for-profit Medicare advantage prescription drug plans, reports having 170,000 members in California and Arizona — including 12,000 in San Diego, all served by Scripps.
"We look forward to collaborating on ways to better meet our patients' needs for comprehensive coverage and quality care," said Chris Van Gorder, CEO of Scripps Health.
Scripps is a nonprofit integrated health system that treats a half-million patients annually through its five acute-care hospital campuses, hospice and home health care services, and an ambulatory care network of physician offices and 25 outpatient centers and clinics.