VENTURE: REGION LURED 7 FIRMS TO SET UP SHOP AND INVEST
New VC Firms Finding Lots of Deals In San Diego's Startup Ecosystem
Friday, July 11, 2014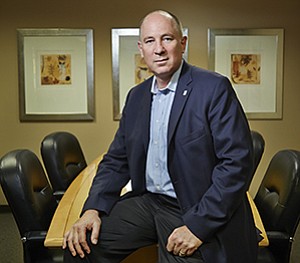 The money men — and women — are venturing back to San Diego.
One of the positive results from the spate of locally based initial public offerings is that it has lured seven new venture capital firms to open offices or set up headquarters in this region, San Diego Venture Group President Dave Titus said at his organization's most recent venture summit.
Those seven are actively seeking to make new deals across the wide range of businesses, with many of them targeting San Diego's clusters, such as biotech, medical technology and health care. And their arrival could ease the travel budgets for many San Diego entrepreneurs, who often need to seek capital outside this region, especially in Boston, Chicago, New York and San Francisco, Titus said.
Here's a rundown of the seven new VC firms that now have offices in San Diego or are active in San Diego.
Analytics Ventures is a Sorrento Valley-based early-stage growth firm and accelerator founded by managing partners Blaise Barrelet, a serial entrepreneur who was the co-founder of marketing analytics platform Anametrix, and independent investor Navid Alipour.
Analytics Ventures, at 2 years old, has been busy of late with a number of deals funded directly from the two partners, Alipour said. The firm invested an undisclosed amount in a seed round in goDog Fetch, a startup developing a personal assistant app for smartphones and tablets that was one of the 30 2014 Cool Companies appearing at the venture summit.
Alipour said he and his partner also recently tapped into San Diego's fast-growing beer industry by investing an undisclosed amount in Bevato, which has developed TapHunter, a free app for users looking for craft beers in San Diego and other cities, and which provides a platform to provide other analytical data in the craft beer industry.
The two have also invested in San Diego-based SouthDoctors, a marketing platform for medical professionals in Mexico seeking to market to the increased number of U.S. residents crossing the border for less expensive medical and dental care. And the partners plan to raise a formal fund starting late this year or early next year to invest in more companies, especially in computer analytics, Alipour said.
CWC Health Tech Advisors, based in Del Mar Heights, is led by managing directors Matthew Weil and medical device industry veteran Eugene Chen, who is based in Carlsbad. CWC's HealthTech Fund 1 has raised a little over $10 million in commitments from high-net-worth individuals and plans to invest those funds in medical devices, health care information technology, diagnostics and related sectors, Weil said in an email.
Anthem Venture Partners, a Santa Monica-based early-stage-focused firm, is led by entrepreneur and investor William Woodward. In October, the firm participated in a $1.25 million seed round in San Diego-based email message monitoring startup Embarke, another one of the 30 Cool companies exhibiting at the venture summit.
Bootstrap Incubation LLC is a Solana Beach firm led by Jean Balgrosky, who is a health care information technology veteran and instructor at the University of California, Los Angeles. Bootstrap Incubation led a $2.1 million Series A round in analytics startup Perceivant, which has offices in Solana Beach and Indianapolis, according to the company's website. Its portfolio also includes Sequoia Consulting Group LLC, based in Solana Beach as well, which works with life science companies in the region.
Gastronome Ventures is an early-stage VC firm based in Cardiff-by-the-Sea that is focused on food and beverage, with a $20 million fund led by Managing Director Douglas Raggio, who has worked as a business consultant and business development officer.
Telegraph Hill Partners is a private equity firm focused on life science and led by founder Thomas Raffin, director emeritus of the Stanford University Center for Biomedical Ethics. The firm now has offices in San Francisco and San Diego, with venture partner Paul Grossman running the local office after being hired in February.
Grossman was a high-level executive at Life Technologies in Carlsbad, which was recently bought by Thermo Fisher Scientific Inc. The firm is investing from its third fund, a $310 million one that closed in 2013.
Venture 51 is an Encinitas-based micro-investing firm focused on seed- and early-stage deals led by former entrepreneurs and co-founders Brandon Zeuner and Ryan Swagar. The two founded the firm in Scottsdale, Arizona, before moving its office to San Diego.
Zeuner said he's working on a deal with a San Diego-based startup that will be announced in the coming weeks.
Focus Is on Startups
The primary focus is startups and other companies ramping up in the San Diego area.
"We hope to find between three and five companies to partner with in this way," Weil at CWC said, adding that Chen "has long experience in medical device company operations, venture capital and medical device startups."
San Diego is a cluster for several companies focused in this industry, with many providing products and services to the financial services industry.
"There is a lot of analytics talent in San Diego, and [the University of California, San Diego] is a gold mine of research and development in this area, what with all the data scientists," Weil said. "We want to leverage what we have in San Diego."