DEVELOPMENT: INPUT SOUGHT ON PLAN FOR TROLLEY LINKING DOWNTOWN, UTC
Mixed-Use and Mass Transit Combine to Meet Needs of Tomorrow
Friday, July 11, 2014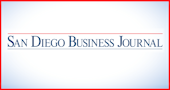 As demographic groups, millennials and retirees are both making strong cases for developing dense, walkable neighborhoods along mass-transit corridors, with shopping, dining and other amenities accessible without a car trip.
"I think the 27-year-olds and the 70-year-olds are seeking the same type of living environments," said Brendan Hayes, a vice president with San Diego-
based apartment developer Fairfield Residential LLC. "When my kids are grown and out of the house, I'm also going to want walkability."
Fairfield's local apartment communities include Pravada at Grossmont Trolley in La Mesa. The problem for developers in general, experts said at a recent local Urban Land Institute forum, is that San Diego County has few other completed examples that demonstrate the effective mix of public transit access and high-density residential offerings.
"There are some examples in San
Diego, but not a lot that readily come to mind," said Joe
LaCava, who chairs the city of San Diego's Community Planners Committee, consisting of leaders of the city's 42 recognized community planning groups.
Also, residents of some neighborhoods have become wary of past promises made by city leaders to bring improvements, LaCava said. Developers in turn are leery about proposing new high-density projects requiring changes in local zoning — to allow elements like taller buildings — that are resisted by residents who prefer to maintain the low-density status quo.
But experts said something will have to give, as the region's population grows and highways become more clogged. Millennials are increasingly deciding not to obtain driver's licenses — since their preferred urban lifestyles are less car-
centric — and retirees and near-retirees are downsizing their living spaces and also heading for walkable urban centers.
Mobility, Walkability Will Be Key
Robin Madaffer, a lawyer with San Diego Land Lawyers Inc. who handles land-use issues, pointed to figures from the San Diego Association of Governments, projecting that the region by 2050 will have a population of 4 million — 1 million more than today — and will require 350,000 new housing units.
Mobility and walkability within denser neighborhoods, she said, will be just as important as access to public transit in that scenario.
Coleen Clementson, principal regional planner with SANDAG, noted that the agency is holding public meetings to gather input on the Mid-Coast Transit Project, which is expected to extend local trolley service north from the Santa Fe Depot in downtown San Diego to University Towne Center and the University of California, San Diego.
With a projected opening date of 2018, the project will represent the first major public-transit link between downtown and UTC, two of the local region's largest job centers, Clementson said.
Millennials' general preference for denser, walk-friendly neighborhoods over suburban sites is borne out by recent national and local trends in apartment demand.
San Diego was recently named one of the nation's 50 best markets for renting residential property to the millennial generation, in a recent report by RealtyTrac. The research firm studied 370 U.S. counties on metrics including median sales prices for single-family residential properties and investment yields on fair-market rental properties.
Researchers said all 50 of the top counties saw their millennial populations — defined as those born from 1977 to 1992 — rise at least 10 percent from 2007 to 2013. San Diego County's millennial population rose 11.3 percent during that span, and millennials now account for 26.2 percent of the region's overall population.