Beetham Appointed CEO at Cibus
Tuesday, July 8, 2014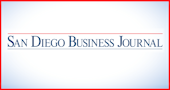 Peter Beetham has taken the CEO's job at Cibus, the Mira Mesa-based biotech announced July 8.
Keith Walker, who co-founded the company in 2001, announced his retirement as CEO the same day, and will take a seat on the company's board.
The business, which describes itself as a gene editing firm, has more than 100 employees.
Cibus' core technology is the Rapid Trait Development System. The company's first commercial product is a version of the canola plant that is immune to a certain herbicide.
Beetham, the new CEO, was a member of the original founding group at Cibus and previously held the title of senior vice president of research and development. Greg Gocal will take Beetham's old job.