SPORT: SKLZ SEES NEW PARTNERSHIP, PRODUCTS AS WAYS TO RUN UP ITS SCORE
On Offense
Thursday, July 3, 2014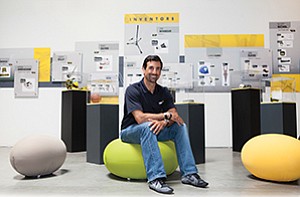 Carlsbad-based SKLZ has grown in 12 years from a single-product company — with a training gadget called the Hit-A-Way for perfecting one's baseball swing — into a $72 million business offering 300 training products in multiple sports.
And while SKLZ is approaching profitability helping athletes improve their skills and hone their bodies, it's looking to play in some new games. The company is mulling an ambitious plan to sell products for all aspects of being an athlete, including nutrition and mindset.
Meanwhile, it has formed a partnership with a high-end personal training company called EXOS, which shares space with SKLZ in a building formerly occupied by Callaway Golf Co. EXOS' presence gives SKLZ a de facto laboratory for its products, with athletes of many levels — high school to professional — using its products and helping it determine where and how to expand.
"We get input on what the athlete is feeling," CEO and founder John Sarkisian said.
Product Diversity
SKLZ, whose core customer is 12 to 18 years old, offers products in two training areas: skills and performance. Skills training products such as the Hit-A-Way — a device consisting of a baseball tethered to pole and used to practice swinging repetitively — are sport-specific.
Performance training products are for more general athletic training, designed to help athletes build attributes applicable to many sports such as agility, power and speed. The SKLZ Quick Ladder, for example, is a device that a person unfolds and stakes into the ground and uses like a hopscotch grid to improve footwork and agility. At $30, it's billed as an improvement on the traditional rope ladder that does the same thing but often becomes tangled in storage to the point that the time it takes to unravel it discourages its use.
The SKLZ Dribble Stick might fall into both categories. The $80 device features a 3-foot vertical pole with adjustable horizontal rods for dribbling a basketball over and under — or for jumping over without a ball. SKLZ offers an extensive library of online videos on how to use its products.
Though its formal name is Pro Performance Sports LLC, the business uses its SKLZ brand name as shorthand for the whole enterprise, with only its Sport-Brella line of umbrellas and chairs not under the SKLZ banner. The standard Sport-Brella shelter — suggested retail price of $60 — looks like an 8-foot-wide mashup of an umbrella and a tent.
SKLZ, which manufactures offshore, sells its products through its online store and online retailers such as Amazon.com
Inc. (Nasdaq: AMZN), as well as in brick-and-mortar stores such as Big 5 Sporting Goods, Dick's Sporting Goods, Sports Authority, Sports Chalet and Wal-Mart. The company, which has room for several semi-trailers in back, fills orders for many of those retailers' online sales.
Revenue is growing — though that growth slowed during the last year. The business had $72 million in revenue during 2013, up from $70.2 million in 2012 and $61.3 million in 2011. It has grown to 100 employees and is recruiting for nine more.
Catering to the 'Complete Athlete'
SKLZ sees at least four areas of the athletic experience in which it has potential to expand: nutrition, measurement, mindset and community.
"We never forget to think about the complete athlete holistically," said Chief Marketing Officer Laura Wolf Stein, a new addition to the SKLZ executive suite who spent 11 years in marketing at Sony Electronics and Sony Pictures Home Entertainment.
And while company leaders aren't ready to reveal a game plan for playing in those fields, Sarkisian acknowledged that nutrition is "a big area" and that there is room for the company to help athletes eat and hydrate properly.
"We probably won't own that, but maybe we'll own some portion of it," he said.
The mind is another critical aspect of athletic training. Speaking on a recent Friday afternoon, Sarkisian said his morning included meetings around the athletic mindset. An athlete needs solid self-knowledge, as well as proper mental preparation and a sense of mental toughness to overcome obstacles.
"If you're an athlete, you're going to be injured," Sarkisian said. "It's just the nature of the game."
Another phase of athletic training that SKLZ is focusing on is the recovery period between training sessions. SKLZ executives said the market can expect a dozen new products geared toward this in 2015 — and 45 new products overall. SKLZ is expanding its line of barrel rollers, which are tubular devices used to massage muscles between workouts; an ultra-firm model sells for $40. SKLZ plans to offer three densities, offering a light or hard massage or something in between.
Sarkisian, who brings the barrel roller on trips, sees a day when it's so ubiquitous that hotel desk clerks no longer ask about it.
"We believe almost every athlete, when they're traveling, will have a barrel roller in their backpack," he said.
Restaurants, Real Estate and Sports
Athletics is not just SKLZ's business, it's a way of life. A passion for sports is a requirement — so stated in the company's job descriptions. And its office and warehouse building has a kinetic vibe. Folks who work there five years are honored with a bobble-head doll in their image.
It's the culture fostered by Sarkisian, whose business ventures have been diverse. The University of Michigan graduate had a long career in real estate. He became CEO of the Oscar's restaurant chain, which his family founded in 1991, during the venture's early months. He held the job until Sizzler International Inc. bought a majority stake in 2000. Sarkisian is a founding investor and board member of BrightScope Inc., a San Diego-based investment research company, and he is industry chairman of the San Diego Sport Innovators group, of which basketball great Bill Walton is executive chairman.
Sarkisian started SKLZ in 2002 with Jonathan Weisz, who exited the business a year later. The business is privately held, and Sarkisian said he owns a "significant" percentage; family and friends also own shares. Solana Beach-based Steelpoint Capital Partners LP took a stake in the company in October.
A Symbiotic Relationship
A walk through the SKLZ warehouse and office takes an unconventional turn when one enters a 16,000-square-foot training complex with top-of-the-line exercise machines.
This is EXOS, which caters to elite athletes and members of the U.S. military's special operations forces — along with high school and college athletes. NFL prospects preparing for the league's scouting combine and draft come here; this year, they included No. 3 draft pick Blake Bortels, a quarterback chosen by the Jacksonville Jaguars.
EXOS — which operated under the name Athletes Performance until early this year — focuses 100 percent on performance training, CEO Dan Burns said. It helps athletes with speed, power and conditioning, rather than sport-specific skills.
The relationship between SKLZ and EXOS, based in Phoenix, goes back four years and has grown into a symbiotic one. A mutual acquaintance introduced Sarkisian to people at EXOS, Burns said. In April 2012, SKLZ moved into a 150,000-square-foot building on Faraday Avenue that had been vacated by a downsizing Callaway Golf (NYSE: ELY). By 2013, EXOS opened a facility under the same roof. Previously, EXOS' only California location was near the StubHub Center in Los Angeles.
Today, ideas flow back and forth between the product and service companies.
"We innovate together," said Burns, noting that an employee of one company sits on the other's performance innovation team. SKLZ provides prototypes, and EXOS' clients subject them to the rigors of athletic or military training.
"It's a powerful partnership for us, SKLZ and the athletes," Burns said.
SKLZ sees itself helping EXOS with marketing. Athletes know EXOS, as do their agents, but the general public does not know about the company, Sarkisian said. "We're helping them tell their story to a larger audience."