San Diego Business Journal Extends Nominations for "CFO of the Year Awards"
Thursday, January 30, 2014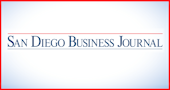 Nominations for the San Diego Business Journal's "2014 CFO of the Year Awards" have been extended. Nominations will be accepted through Feb. 6.
A special awards reception is slated for Wednesday, March 19, at Paradise Point Resort & Spa to acknowledge the winners and finalists. Nominees will be judged in the categories of nonprofit organization, business nonprofit, education, government agency, privately held company, and public company.
In this eighth annual signature program, CFOs and financial managers from across San Diego's diverse business sectors are honored for their fiscal leadership and diligent oversight of their organizations and their bottom lines.
The San Diego Business Journal joins with title sponsors California Bank & Trust and Cox Business; gold sponsors CBIZ/MHM and Intercare, a Hub International Company, along with support from CalCPA, CFO Roundtable, FEI San Diego Chapter, and LEAD San Diego in presenting this popular recognition program.
Nominate or order tickets online at: http://www.sdbj.com/bizevents/
SDBJ Staff Report