Qualcomm Reports Record Revenue for Quarter
Thursday, January 30, 2014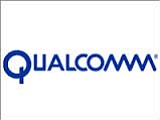 Shares of Qualcomm Inc. closed at $73.26 on Nasdaq Jan. 30, up 3 percent from the prior day's closing price when the wireless technology company reported its fiscal first quarter results.
The company said revenue in the quarter was a record $6.62 billion, up 10 percent, while net income, excluding certain charges, was $1.88 billion, down 2 percent from what it did in the like quarter a year earlier.
Qualcomm reaffirmed its guidance on expected revenue for the full fiscal year that ends in September to finish in a range from $26 billion to $27.5 billion, or 5 to 11 percent above what it generated in FY 2013.
On a diluted per share basis, Qualcomm forecast slightly higher profits for the year, ranging from $5.00 to $5.20 per share, above an earlier forecast range of $4.95 to $5.15 per share.
"We're off to a solid start for the first fiscal quarter," said Steve Mollenkopf, who assumes the chief executive officer role March 4, succeeding Paul Jacobs, who will become the company's executive chairman.
Qualcomm is benefiting from a continuing surge in the sale of smartphones, tablets, and other wireless devices globally. Its chips are found in most of these devices, and it also collects royalties from the use of its technology.
While the company said the first quarter unfolded much as it expected, sales in the second half should improve as China rolls out a next generation cellphone services.
For its fiscal second quarter that ends March 31, Qualcomm forecast revenue ranging from $6.1 billion to $6.7 billion, or flat to 9 percent greater than last year's second quarter. Operating earnings per share were forecast to come in from $1.15 to $1.25.
Qualcomm Chairman Paul Jacobs said he intends to spend more time working on a variety of projects including 5G technology, the "Internet of things," and new technologies used in electric vehicle recharging.
"There's a broad range of technologies out there that we're working on that will drive a reasonable amount of growth going forward," he said.